Coming up with Christmas scavenger hunt riddles can be tough and time-consuming. We've therefore taken the hassle out of it by giving you a list of 10 free riddles below, which are also Christmas scavenger hunt rhymes.
These riddles could be used to organize a scavenger hunt in a few different ways:
Have players take photos of the different items once they've answered the riddle
Have players collect each of the items once they've answered the riddle
Plan a treasure hunt, where the answer to each clue holds the riddle for the next item that they have to find
We also have two more sets of Christmas riddles here and here.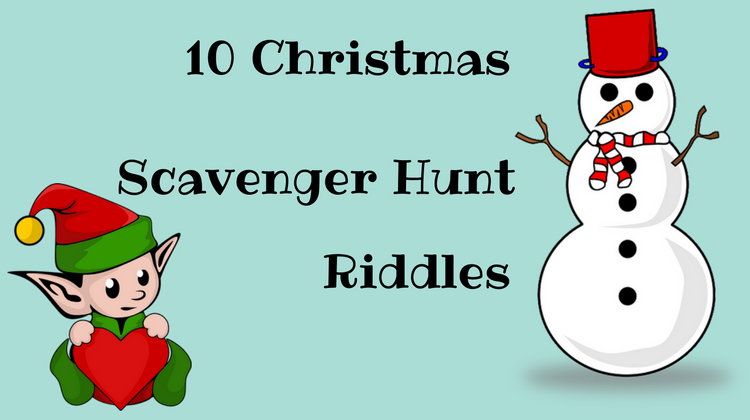 Free Christmas Scavenger Hunt Riddles
1. Bells
Shiny and metallic, but not a piece of bling
They're there to make a noise – shake them and they'll ring
2. Star
The second item is bright – real ones are on fire
To find this item in the room, you'll have to look up higher
3. Rudolph
You'll never see this animal as you should be in bed
The most famous part of his body is the color red
4. Snowman
You'll start making him by getting on a roll
Then adding a scarf, a carrot and some coal
5. Scarf
When it's cold out, you'll find yourself a wreck
Without something warm to wrap around your neck
6. Sled
If you find it's snowy, don't fall like Jack & Jill
Instead you can use this transport to make it down the hill
7. Santa Claus
Hoping a stranger breaks in your house would normally be quite weird
Except at Christmas when you want a visit from this old man with a beard
8. Angel
If you've always wished that you could fly, you'll be jealous of these things
It looks like they drink Red Bull, as they have a pair of wings
9. Elf
It's thanks to beings like me that your toys don't come from stores
Because I'm a little helper who makes your gifts from Santa Claus
10. Nativity Scene
This may seem like a strange mix, but it's there for all to see
With parents, shepherds, kings, animals and a baby
If you liked all of these riddles, check out our other Christmas scavenger hunts.