Halloween's just around the corner, so here are 10 Halloween scavenger hunt riddles you can use with anyone – kids, teens, youth groups or adults.
There's also a link to download a worksheet with all these rhyming riddles on – keep reading to get your copy.
If you like these, we've published 10 more Halloween riddles for scavenger hunts. Also be sure to check out our sister site – Riddles For Kids – for loads more Halloween riddles.
Here's how to organize it: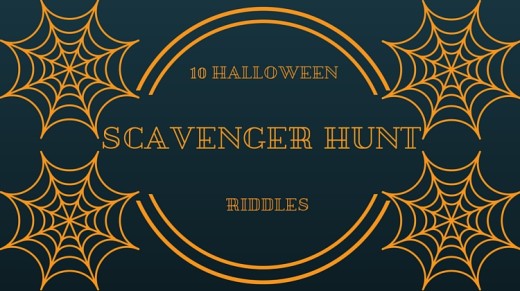 Resources
Riddles (see below)
Halloween decorations – based on the riddle answers (optional)
Sticky tape (optional)
Preparation
It depends on which of the ideas you pick below – some require no preparation, some need a little.
Scavenger Hunt Ideas
As mentioned above, there are a few different ways you could use these riddles – here are some of those fun ideas:
Store It Up – Go to a store that sells Halloween decorations – either an actual Halloween store, or somewhere like Walmart or Party City. Give the players the riddles – their challenge is to answer them and find each of the items (or decorations with them on).
Haunted House – For this, you'll need your house decorated with all the items. Stick the second riddle to the first item, the third riddle to the second item, etc. Once you've given the players the first riddle and they've found the item, they should be ale to work their way through all the riddles.
Who's My Neighbor? – Give all the riddles to the players. Explain that their task is to answer all the riddles, then go around the neighborhood to see if they can find yard decorations for each of the items.
Riddles
Here are the 10 Halloween-themed riddles you can use. Beneath this list is a link for a free printable scavenger hunt worksheet with these same rhyming riddles – please feel free to print as many copies as you need.
In case you need any of these Halloween items, the answer for each riddle links to a fun toy, decoration or costume on Amazon:
1. Mummy
The next answer that
Should escape your lips
Should be the creature
Wrapped up in cloth strips
2. Vampire
If you see this flying around
You might want to hit the deck
And go and hide as best you can
So it doesn't bite your neck
3. Spider
This common little arachnid
An intricate web it does weave
And when many people see one
The room that they are in they leave!
4. Pumpkin
If you carve this out and then
Stick in a candle light
The result of this should be
You give someone a fright
5. Bat
If you see one flying around
You'd better be careful at night
As some turn into vampires
And will give your neck a big bite
6. Skeleton
This body has no ears or tongue
So he's not able to use phones
Tickling doesn't work on him
Because he's only made of bones
7. Cobweb
In the center of this design
Are several trapped little flies
And heading in to eat them all
Is a spider with bulging eyes
8. Werewolf
If you see this hairy creature
Your first choice should always be to run
Otherwise you had better hope
You have silver bullets in a gun
I'm about 8 feet tall
And have bolts in my neck
I have powerful rage
Better keep me in check
10. Broomstick
If you're able to solve this final riddle
You'll have a clean sweep of answers that are right
And a clean sweep is what you can do with this
Or get on it to fly off into the night
Printable Halloween Scavenger Hunt Riddles
As we mentioned above, if you liked these ideas, we have a further 10 riddles you can use here.