A couple of days ago, we published 10 Halloween scavenger hunt riddles that you could use to organize a fun game for kids or adults and that are perfect for Halloween parties.
We didn't want to stop there though, so here are 10 more rhyming riddles – now you can have double the fun!
See the previous post for ideas on how to use these as part of a Halloween scavenger hunt. As before, beneath the riddles is a printable list to make it easier for you to organize.
The answers also link to costumes, decorations or toys on Amazon in case you need to stock up on any Halloween goodies.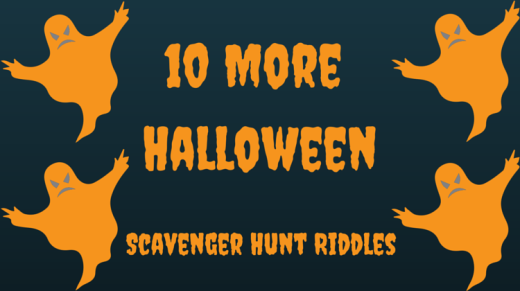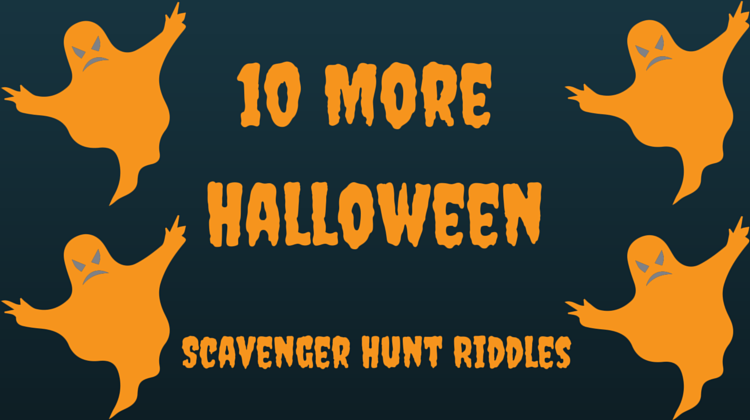 1. Witch
A crooked nose
And a black hat
Wart on her face
Now who is that?
2. Ghost
It might look like a white sheet
Covered over someone
But beware of this spooky thing
It might be best to run!
3. Cauldron
Eye of newt and toe of frog
Wool of bat? Just a spot
These are all what witches brew
Inside this big black pot
4. Eyeball
There is a pupil inside this
But saying it's a school is not right
When you see this lying around
You'll know someone's lost their sight
5. Zombie
After the apocalypse
Try not to lose your head
Just make sure that you avoid
All of the walking dead
If you get lost in the middle of nowhere
And come across this place in the night
Then think twice about knocking on their front door
Unless you want to get a big fright
7. Blood
For the aristocracy
It's said that theirs is blue
If you were to get cut though
Then red would be your hue
8. Coffin
When you put a person in this
You shouldn't hear any knocks
If you do there's been a mistake
And you should open this pine box
9. Tombstone
If you ever happen to see one of these etched
With your name, birth year and a future date
You might want to be worried that there is someone
Who knows when it is you'll meet your fate
10. Black cat
To make sure you don't have bad luck
And to have everything be fine
Make sure that your path isn't crossed
By this certain type of feline