Here are 10 nature scavenger hunt riddles that are perfect for using when planning a fun outdoor activity for kids.
There are a few ways that you could use these riddles – here are some suggestions:
One At A Time
Give your kids the riddles one at a time. Once they've worked out the riddle, they have to go and find the item.
They might need to get creative, as there may not be a rainbow or stars in the sky when playing this – instead, do they have any toys or books that would have these in them?
All Together
Give the kids a sheet containing all the riddles. They have to answer all of them first and then find each item.
Pictures
For an indoor activity on a rainy day, print off pictures of each of the items and stick them up around the house.
They then have to find the pictures once they've worked out the answer to each riddle.
Treasure Hunt
If you wanted to have them win small prizes, you could plan this as more of a treasure hunt instead.
In the list of nature riddles below, there are links to a small prize for each of the answers. Place these randomly all around the house or backyard and when they answer a riddle, give them a general idea of where they could find the item, then they have to go and hunt it down.
A couple of things to note with this option:
It will probably be appreciated more by girls due to the nature of the prizes
The cost of the prizes could easily add up!
Here are the 10 riddles for you to use. They're not rhyming – instead, many of them are a play on words, with several of them being based on homophones.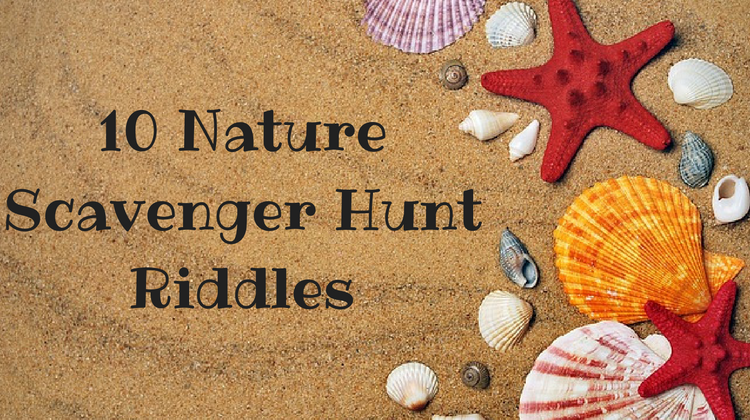 1. Sand
If you take a photo of this at the beach, it might look quite grainy.
2. Shells
You might be able to find these on the beach even though there aren't any eggs.
3. Tree
I have a trunk but I'm not an elephant. I have branches but I'm not a bank. I have bark but no bite.
4. Ladybug
Despite its name, this beetle can be male.
5. Sun
This big ball of gas isn't named after a daughter.
6. Turtle
Can you help this reptile come out of its shell?
7. Rainbow
If you wrapped a pot of gold as a gift, you might decorate it with this.
8. Horse
This animal's name makes it sound like it has a sore throat.
9. Rose
This flower might be a lady who was lifted up.
10. Stars
On a clear night, are those famous people you can see in the sky?
If you liked these ideas, we have loads more scavenger hunt riddles, as well as many other nature scavenger hunts.