It's almost February 14th, so here are 10 Valentine's Day scavenger hunt riddles to use with your partner.
All of these riddles provide clues to items that you can use for a fun, exciting and romantic evening together on Valentine's Day.
We've provided links to some of the items, as they might not be as easy to find as some of the more common items like chocolate and champagne.
10 Valentine's Day Scavenger Hunt Riddles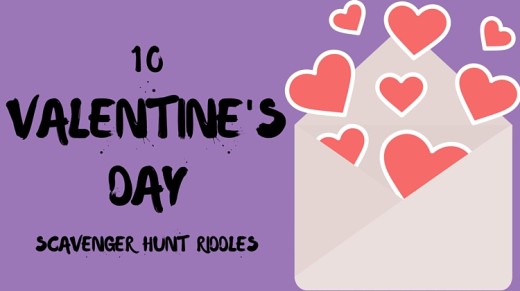 1. Champagne
Open this bottle and you'll hear a loud pop
It'll fill your glass with bubbles right to the top
2. Rose Petals
These are part of a flower but they are not the stem
Scattered all over the room, I'm sure you'll love them
3. Chocolate
White, milk and dark, you can choose from all three
You can eat from a plate or if you'd prefer – from on me
When you use these you'll be under arrest
They're furry too in case you hadn't guessed
5. Strawberries
You're doing well so far, you've got plenty of loot
The next item to guess is a tasty red fruit
6. Bath Salts
Add these to a bath and I think you will find
They're nice and relaxing for body and mind
This romantic film, I think you will say
Is the perfect thing to watch on this exact day
8. Love Dice
Roll these two things and your dreams may come true
Whatever they say will be what I will do
9. Candles
Lighting these up will help you relax
Just be careful of the hot melted wax
10. Massage Oil
If your back is feeling tense, then let me use this
A few minutes of rubbing will help you feel bliss