It's coming up to Christmas and this 12 Days Of Christmas game is a perfect scavenger hunt to play this season.
The game is an exciting activity for everyone, so can be done with kids, teenagers, youth groups or adults. It's a game that keeps on giving, as the excitement doesn't end when it's over – it's only just beginning!
Here's how to play it: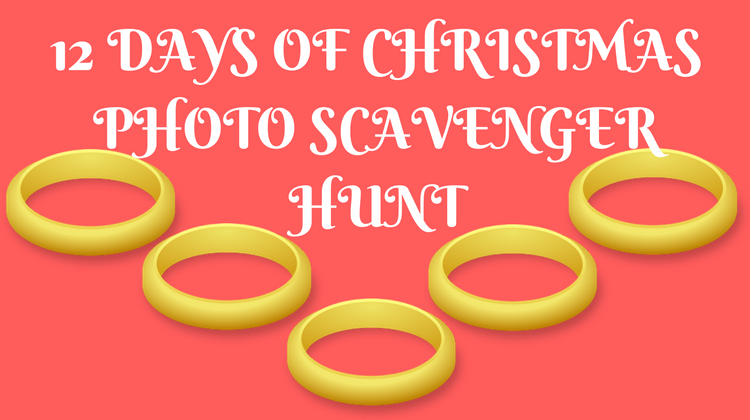 12 Days Of Christmas Game
Split the players into teams or have them play as individuals. Give each of them a list of the 12 Days Of Christmas gifts and ensure that each team / player has some kind of camera (cellphone cameras are fine).
Explain that they have to take photos of each of the gifts, including the correct number of gifts. For example, they need to take a photo of 9 ladies dancing, rather than just one lady dancing.
This game requires creativity on each team's part, as it's unlikely they'll be able to find things like an actual partridge in a pear tree!
Points are awarded in two ways:
Award one point for each completed item
Award bonus points based on things like creativity, involving members of the public in their photos, how funny the photos are, etc
Here's a list of the gifts in the 12 Days Of Christmas:
12 Drummers Drumming
11 Pipers Piping
10 Lords-a-Leaping
9 Ladies Dancing
8 Maids-a-Milking
7 Swans-a-Swimming
6 Geese-a-Laying
5 Gold Rings
4 Calling Birds
3 French Hens
2 Turtle Doves
1 Partridge In A Pear Tree
Bonus Tasks
To make the game even more fun, include some bonus tasks that players have to complete. Here are four ideas that you could use:
Film yourself singing 12 Days Of Christmas with members of the public
Get your photo taken with Santa
Take a photo of another Christmas song
Take a photo of the weirdest Christmas tree decoration that you can find
Points for these bonus tasks should be awarded in the same way as for the main items.
Free Download
We've produced a PDF listing all 12 Days Of Christmas along with the four bonus tasks mentioned above. This can be downloaded for free using the link below and will enable you to save it and print it off as many times as you need.
Printable 12 Days Of Christmas Game
Winners
The winning team is the one that scores the highest number of points.
Slideshow
Once the game has finished, display a slideshow of all the different photos that have been taken. This is often the best part of the scavenger hunt, as teams really enjoy seeing how each of the gifts and tasks were interpreted by everyone else.
Try to hook up the cameras (or cellphones) to a computer or TV so that these can be shown to everyone.
If you liked this idea, check out all of our other Christmas scavenger hunt ideas.