These mall scavenger hunt clues are perfect for any age, whether the activity is being planned for adults, teenagers, kids or a youth group.
To make things easier for our readers, we usually try to produce scavenger hunt lists that you can download and print off. A scavenger hunt at the mall is a bit different though, as each mall has different stores that are located in different places.
We've therefore listed 20 different clues below for you to use, but that you can also customize based on how your local mall is set out. n.b. You'll need to do some research at the mall first to find out the answers.
If you want to produce your own clues, we'd recommend making them as varied as possible. You can do this by creating clues based on things like:
Price of a certain item in a store
What's in a store window
Location of stores
Number of stores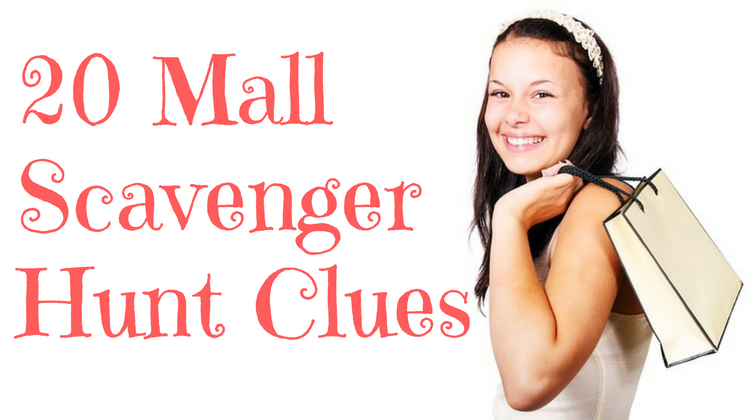 20 Mall Scavenger Hunt Clues
At McDonalds, how much would it cost to get a cheeseburger, small fries and large soda?
A mannequin in Gap is wearing a blue cardigan – how much does it cost?
How many stores are on the second floor?
If you're looking at Sears, what is in the window three stores to the left?
What is the current special bear at Build-A-Bear?
How much does a footlong chicken & bacon ranch sub cost at Subway?
How many different beverages are available in the vending machine on the 1st floor?
How much does the latest iPhone cost on contract at the Verizon store?
How many different movies are there showing today at the movie theater?
How many places can you get your hair cut? (Bear in mind that there might be salons in department stores)
How many places are there to order food in the food court?
What is the most expensive necklace for sale at Zales?
What color feather boas can you get from Claire's?
What is the largest sized shoe that you can find in Payless?
In New York & Company, what color is the blouse on the mannequin on the left as you walk in?
What is the most expensive perfume for sale in Macy's?
How many changing rooms are there in Old Navy?
What are 3 items that cost less than $1 in the dollar store?
What are two items being sold at the checkout in Hallmark?
How many checkouts are there in Target (both open and unopen checkouts)
If you've found these mall scavenger hunt clues helpful, you may also like our 20 mall scavenger hunt riddles.