If you want ideas for mall scavenger hunt riddles that rhyme, we have just what you're looking for!
The mall is a perfect place to organize a photo scavenger hunt, so once players have worked out each answer, you could have them take a photos of themselves outside the store.
These riddles and clues are based on stores that are common in the US, but we've tried to include global brands as much as we can so that our overseas readers can make use of them too 🙂
These ideas can be used for people of any age, but are especially great for using as part of a youth group scavenger hunt.
We haven't provided a downloadable scavenger hunt list for this post, as any list we produced would probably have riddles for stores that aren't in your local mall.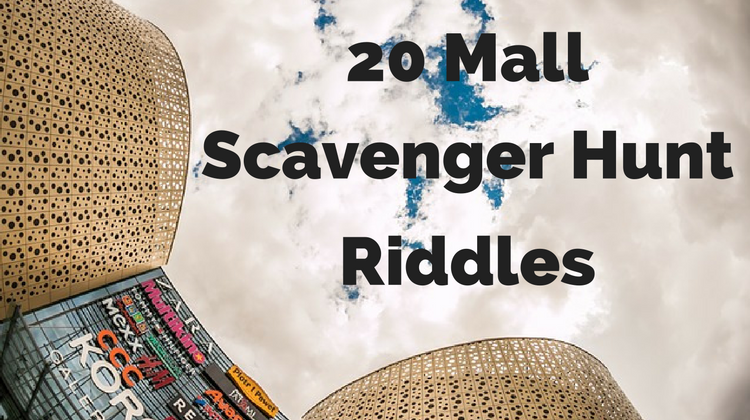 Mall Scavenger Hunt Riddles And Answers
Subway
This eating place sounds like it can be found
In New York but underground
Icing
To buy some jewelry you'd need to make
Your way to a store that's found on cake
McDonalds
The next place to find, if you can
Is named after a farm, owned by an old man
Gap
On the London Underground you would find
That this is something they'd tell you to mind
The Body Shop
This store selling skeletons? Only in your dreams
Instead they sell soap, scrubs, lotions and creams
Dollar Store
The next place to find in this game
Is a store where everything costs the same
Pottery Barn
The name of this store I have to say
Sounds like where a farmer would sell some clay
Chili's
This sit-down restaurant truth be told
Sounds like it is both hot and cold
Hallmark
The first syllable you can find at school
The second syllable is the second gospel
Yankee Candle Co.
It could be true that Babe Ruth might
Have liked this store with things to light
Burger King
This fast food restaurant is where you'd look
If you want a patty made by a monarch
Macy's
Find this store and you'll have it made
Just like their Thanksgiving Day parade
Apple
Many of their products are just plain white
They're also a fruit from which you bite
Payless
If you need shoes then this is the store
You go to so that you don't spend more
Dairy Queen
Find this ice cream place and you'll have another one down
It sounds like a glass of milk wearing a crown
Victoria's Secret
Womens underwear is something you'll find this store will sell
Named after a lady who knows something but just won't tell
New York & Company
Your next store has the initials NYC
But the C doesn't stand for the word City
Target
This large shop it has a name
That sounds just like you're taking aim
Sprint
One more riddle after this and you're done
This phone store sounds like when you run
Build-A-Bear
Once you've found this store you've reached the end
It's a place you create a cuddly friend
If you liked these mall scavenger hunt riddles, check out all our other scavenger hunt ideas for many similar activities.