Today we have three scavenger hunt ideas that have money as the theme.
The great thing about these ideas is that they don't actually have to cost you anything!
They're also good for using with people of any and all ages, so anyone can enjoy these games.
Here's how to play them: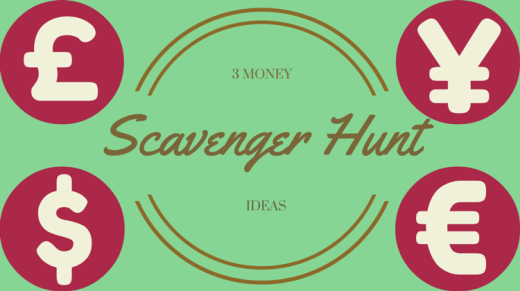 1. State Quarter Hunt
This can be a great activity to do with adults, although it works just as well with kids or youth groups.
This particular game is aimed at US residents, so check out the next two ideas for suggestions that can be done in any country.
Split the players into smaller teams, or have them play as individuals if there are only a few people participating. Each team (or player) will need $12.50 – it's up to you as to whether you provide this or if they need to bring this themselves.
The objective of this money scavenger hunt is to collect as many different state quarters as they can using the money (50 x 0.25 = $12.50). They can obtain the coins however they like – at a bank, in stores, from home, members of the public, etc.
If you want to make it even harder, increase the playing budget to $14 and include quarters for Washington DC and other US territories.
Put together a list of the 50 states (plus DC and US territories if applicable) and give to each team along with a pen so that they can check off each quarter as they find them.
It's also helpful to give each team two Ziploc bags – one for state quarters and one for other change that they'll be swapping for the coins they need.
2. Different Penny Years
For this idea, you only need $1 per team / player. Their task in this scavenger hunt is to use the dollar bill and swap it for pennies minted in as many different years as they can find.
Along with the money, give each team a piece of paper, a pen and two Ziploc bags. The pen and paper is for them to note down which years they've already found, while the bags are to separate the unique pennies from pennies minted in the same year.
3. Same Penny Years
This final scavenger hunt is similar to the second idea listed above. You'll be giving each team / player $1 again to swap for pennies.
The difference is that this time they need to collect as many pennies from the same year, rather than from different years.
The players probably won't need pen and paper with this one as they only need to keep track of one year, although it would be helpful to provide the two bags again to keep the pennies separate.
If you liked these ideas, you may also like our book – 52 Scavenger Hunt Ideas.