If you want to plan a fun activity for Independence Day, here's a great 4th of July scavenger hunt idea involving food.
It's perfect for using with your kids when going to the grocery store, or even with adults as a 4th of July party game.
Here's how to play it: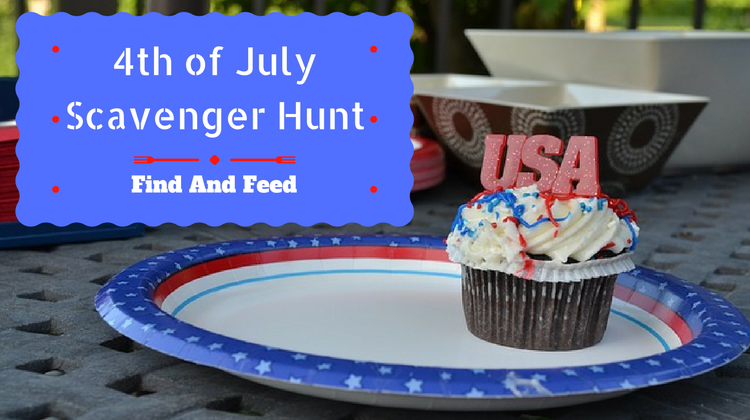 Resources
$10-$20 for each team (optional)
Preparation
None
Location
This is best played at the grocery store, particularly if you're organizing this for kids.
With a youth group or adults, it can still be played at the grocery store or you could have them drive around their homes to collect items.
Instructions
There are two challenges that make up this 4th of July scavenger hunt:
Challenge 1 – Find
Set the players the task of finding as many different foods as they can that are either red, white or blue within a certain time limit. The winner of this challenge is the one that collects the most different foods.
There are a few ways you can have them collect the items:
At a grocery store with no budget limit

At a grocery store with a budget of $10-$20, buying as many different items as they can with that amount
By going around their homes collecting as many items as they can
Challenge 2 – Feed
With all the ingredients that the players collect, their second task is to create various dishes using all the ingredients.
You can then decide the winner of the second challenge based on who created the best tasting food.
Examples
Here are some examples of food they might collect and dishes they could make as a result (ingredients that aren't red, white and blue can be used as well):
Dish 1 – Fruit Salad:
Strawberries – red
Raspberries – red
Grapes – red
Blueberries – blue
Dish 2 – Pizza:
Tomatoes – red

Pepperoni – red
Peppers – red
Onions – white
Dish 3 – Muffins:
Flour – white

Eggs – white
Blueberries – blue
Dish 4 – Potato Salad:
Potatoes – white (once peeled!)

Eggs – white
Mayonnaise – white
Salt – white
Onions – white
If you liked this suggestion, check out all our other 4th of July scavenger hunt ideas.