If you want to plan a fun game or activity for Independence Day, here's a 4th of July scavenger hunt idea, complete with a free printable list.
This game is perfect for kids, youth groups and adults. It could also be used if you're having all the family – or many different families – over to celebrate the 4th of July.
Here's how to play it: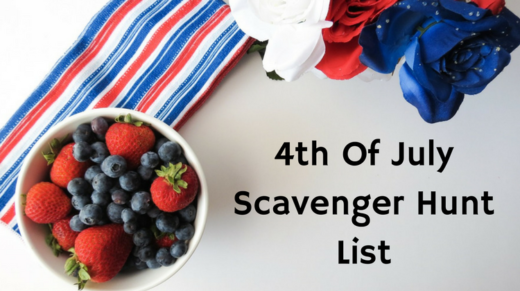 Resources
Scavenger hunt list (see below)
Pens
Preparation
None, so this leaves you more time to prepare for your party!
Location
The items on the list are objects that you should be able to find around the house, but it could also be played at the mall.
Type
This game is best – and more challenging – if players have to physically collect all the items on the list.
If you're going to be playing it at a shopping mall though (perhaps with a youth group), organize it as a photo scavenger hunt instead, where players have to take photos of the items rather than collecting them.
Idea
Give all the players a copy of the list of items that they need to find, as well as a pen so they can check off each item as they find them.
The list is split into four sections of different items to find – some red, some white, some blue and some have to be a mix of red, white and blue.
Give them a time limit and a location where they have to meet at the end and send them off hunting.
List
Here's the list of 28 different items for the players to find. Beneath this is a link to download a free copy of the list that you can print off as many times as you need.
Red Items
Washcloth
Hat
Blanket
Dice
Paper clip
Candle
Piece of fruit
White Items
Soap
Coloring pencil
Stuffed animal
Photo frame
Sticky label
Coffee mug
Christmas decoration
Blue Items
Towel
Socks
Construction paper
Scarf
Toy car
Post-it note
Toothbrush
Red, White & Blue Items
T-shirt
Ball
CD cover
Food label
Badge
Napkin
Necktie
Printable 4th Of July Scavenger Hunt List
If you liked this idea, check out all of our other scavenger hunt ideas here.