If you're planning to travel to London, why not make the visit even more fun by organizing a scavenger hunt for you to play with the people you're going with.
To help you out, here are 50 London scavenger hunt ideas, as well as some different ways that you can organize the activity depending on who you're travelling with.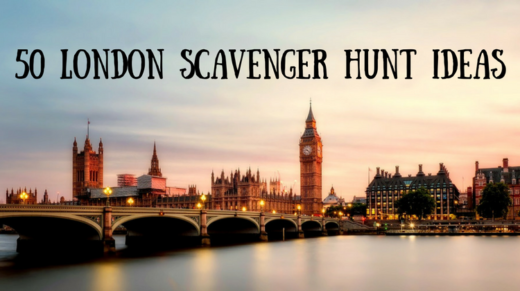 Group Options
First of all, here are some of the different ways you can plan the game:
With your own family – Make a list of things that your kids should keep an eye out for as you explore the city. If you're concerned that your kids might get bored by some of the activities that you have planned, do a little bit of research beforehand and include items from those activities on the list – this should help keep their attention and make that part fun.
With other families – If you're visiting London with friends who also have kids, you could make it a friendly competition between families to see who can see all the items first.
With adult friends – Compete against them to see who can complete the scavenger hunt list first.
London Scavenger Hunt Ideas
Here's a list of 50 different things to see, hear, visit, do, eat, drink and collect while in London. If you want to add an extra element to the game, you could make it a photo or video scavenger hunt where players have to take photos or video footage to prove that they've completed all the tasks.
The list is split into various different categories based on how you'd complete each item. We usually provide printable scavenger hunt lists whenever we publish a list. However, as each trip to London will be unique based on who's going – and you may not have time to do all 50 things – we've just made this list for you to pick and choose what activities to include.
Things to see in London
Black cab

Street performer
Pigeons in Trafalgar Square (don't feed them though like they sing about in Mary Poppins – it's illegal now)
Banksy graffiti
People playing cricket
Rowers on the Thames
Wild deer in Richmond Park
The Changing of the Guard
Illuminated signs at Piccadily Circus
Red postbox
Things to hear in London
Big Ben chiming on the hour

Tube announcer saying 'Mind The Gap'
A busker at a tube station
Places to visit in London
Things to do in London
Visit Abbey Road and recreate the famous Beatles album cover
Go on the London Eye
Travel on a red double decker bus
Go on a Jack The Ripper walk
Buy something from a stall in Camden Market
Watch a West End musical
Walk on the Millenium Bridge
See the view from The Shard
Take a ride on a Boris Bike
Find your way out of a HintHunt room
Things to eat and drink in London
If you're feeling adventurous, eat at Dans Le Noir – you eat in pitch black darkness and don't find out what you've eaten until the end of the meal!
Get some traditional fish and chips – bonus points if it's takeout that comes wrapped in newspaper
Have a pint of real ale in a pub
Eat roast beef with Yorkshire puddings
Have a full English cooked breakfast
Have a cup of tea the English way – PG Tips with milk and sugar
Eat a doner kebab
Go for a cream tea – scones, jam and clotted cream
Eat a Cornish Pasty
Eat a pack of Worcester Sauce flavor Walkers potato chips (n.b. potato chips are called crisps there)
Souvenirs to collect in London
Something that says 'Keep Calm And Carry On'

An item that says 'I ♥ London'
Paddington Bear stuffed animal
Something with a Union Flag on it
Red telephone box keyring
If you liked these ideas, you may also enjoy some of our other travel-themed scavenger hunt ideas.