If you want to organize some fun outdoor games for your kids, you don't necessarily have to go far. In fact, you don't even have to leave your neighborhood.
Today we have 7 neighborhood scavenger hunt ideas for you to use: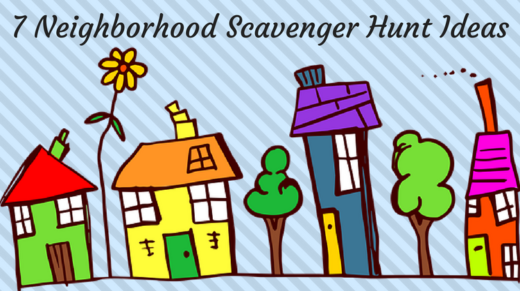 1. Sign Language
Take a walk around your local area and look for as many different types of road signs as your kids can find.
See how many of them they know the meaning of. For signs they don't know, try to help them work out what they mean before telling them the answer.
2. Beat The Street
Similar to the first idea, talk a walk around your neighborhood, only this time look for as many different types of street names as they can find.
This could include names like:
Street

Lane
Court
Circle
Ave
Blvd
3. Yard Ornament Tournament
How many different types of ornaments can your kids find in your neighbors' yards?
4. State's Plates
Walk around and take a look at all the different license plates on cars parked on nearby driveways. How many different states' plates are there?
Check out our separate post which goes into more detail about how to play the license plate game.
5. Making It
The fifth of our scavenger hunt ideas is similar to the previous one, but this time have your kids find as many different car makes as they can.
You could also have them keep track of how many times they see each make so that they can work out which car brand is the most popular in your neighborhood.
6. More Doors
With this idea, walk past all your neighbors' houses and see how many different color front doors they can spot.
Again, keep track of how many times they see each color so that they can find out which is the most common color.
7. Gotta Find Them All
Make a list of different items for your kids to find, then take a look around your local area to see if they can find them all. Here's a free printable neighborhood scavenger hunt list that you can use for this activity.
If you liked these ideas, check out all our other scavenger hunts for kids.