This Christmas Internet Scavenger Hunt idea is a great activity for having kids and teenagers learn more about Christmas around the world, but could be used with people of any age.
The idea's quite simple – give players a list of questions that they have to answer by going online and searching the internet. Christmas scavenger hunt questions could be about anything to do with the holiday season, such as:
Traditions
Food
Songs
Decorations
Another option – which is the one we're looking at here – is to organize a Christmas around the world scavenger hunt.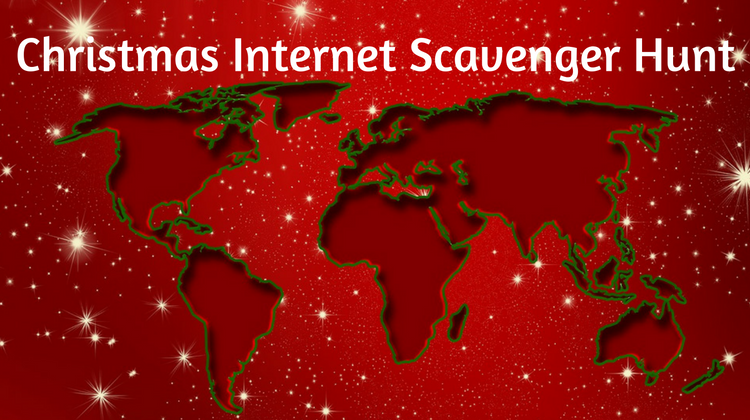 Christmas Questions
The questions that players have to answer can still be based on the topics listed above (traditions, food, etc), but with a more global focus.
Different countries around the world have different customs, so this activity is a perfect opportunity for the players to learn about other cultures while still having fun.
Try not to ask questions where all the answers can be found on exactly the same Wikipedia page though, otherwise this internet scavenger hunt won't last for very long!
Scavenger Hunt List
Maybe this sounds like too much hassle though, having to research all the customs and traditions of different countries. If so, we have the perfect solution for you!
Below is a list of 15 questions and answers, all about how Christmas is celebrated around the world. Please feel free to use these for your Christmas internet scavenger hunt.
If that interests you, we've also included a link beneath the list for a free downloadable worksheet containing these same questions. The worksheet has all the questions on the first page that you can give to each of the players, with the second page giving you both the questions and the answers.
In Australia, Christmas falls during which season?

Summer



Find three countries where Christmas isn't a public holiday.

China, Thailand, Turkey, Saudi Arabia, Nepal, Japan, North Korea, Iran and Algeria

What is the German word for Christmas tree?

Tannenbaum

The poinsettia is a plant that's originally from which country?

Mexico

In England, what is the traditional meat to have at Christmas dinner?

Turkey (although goose is also allowed as an answer)

Saint Nicholas (who Santa Claus is modeled on) lived in which country?

Turkey

What is a Presepio in Italy?

Nativity scene

What is the Spanish term for Christmas Eve?

Nochebuena

In the Netherlands, what name is Santa Claus known by?

Sinterklaas

What date is Boxing Day?

December 26

What are three countries that observe Boxing Day?

UK, Canada, Australia, New Zealand and Hong Kong

What is another name for a Greek Christmas carol?

Kalanda

What is the first dish in the Ukrainian twelve dish Christmas Eve supper?

Soup

The Consoada is celebrated in which country?

Portugal

What does Sheng Dan Lao Ren mean in Chinese?

Santa Claus
Printable Christmas internet scavenger hunt list
Winners
The winning player / team is the first one to answer all of the questions correctly.
If you liked this idea, you may like our other Christmas scavenger hunts and internet scavenger hunts.