If you're looking for Christmas photo scavenger hunt ideas, we have a bunch of them for you below.
If you've never planned one before, we'd recommend reading our guide on how to do a scavenger hunt first.
Here are the fun ideas: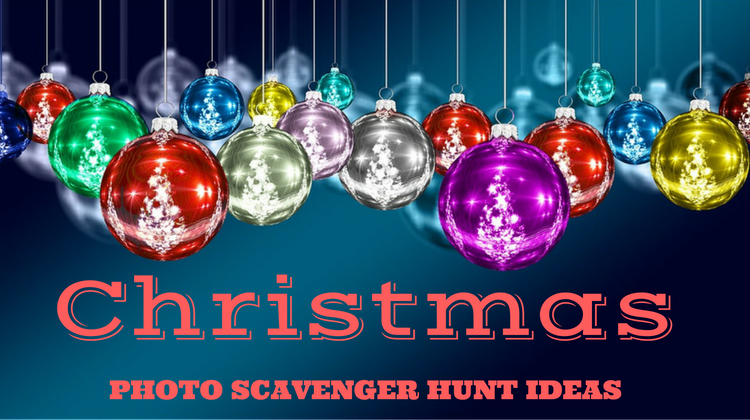 Christmas Photo Scavenger Hunt List
To save you time and hassle, we've produced a list of 30 different designs that players need to find on Christmas tree ornaments. Once they've found them, they should take a photo of it and check it off the list.
Alternatively, this could be organized as a regular scavenger hunt where they have to actually collect the items instead of taking a photo of them.
We like to include additional challenges for players when planning scavenger hunts. Not only does it make the activity more fun, but it can help ensure there's no tie at the end in case more than one player manages to take a photo of each item on their list.
We've therefore included four additional tasks that players have to complete to earn bonus points. The bonus points can be awarded based on various factors like how funny they are, how creative they were in their interpretation of the task, etc.
That's not all though! You can also download a copy of the list and bonus tasks using the link beneath the list of items and tasks. This is a free PDF that you can save and print as many times as you like.
Christmas Tree Ornaments
Owl
Snoopy
Santa
Gingerbread man
Bells
Angel
Wreath
Mickey Mouse
Candy cane
Stocking
Polar bear
Poinsettia
Christmas tree
The Grinch
Wise Men
Snowman
Baby Jesus
Star
Scarf
Sled
Snowflake
Candle
Icicle
Reindeer
Penguin
Snowboard or skis
Partridge in a pear tree
Tigger
Elf
Angry Birds
Bonus Tasks
Take a photo of your team spelling out a Christmas themed word with your bodies
Record yourselves singing a Christmas song with members of the public
Have your picture taken sitting on Santa's knee
Take a photo of a Christmas present that would be given to a child who's been naughty
Printable Christmas Photo Scavenger Hunt List
Other Christmas Photo Scavenger Hunt Ideas
If you'd prefer to produce your own list of items for players / teams to take photos of, here are some other theme ideas to get you started:
Christmas yard decorations
Wrapping paper designs
Snow globe designs
Christmas songs
Different Santas
Christmas foods
Stocking fillers
Location
The best location for a Christmas photo scavenger hunt will vary depending on what theme you go with. If you've downloaded our list, we'd recommend doing it either at a shopping mall or just having players / teams be free to go wherever they need to in order to find different Christmas tree ornaments.
A theme like a yard decoration hunt might be best planned for your local neighborhood, whereas a scavenger hunt where players have to take photos of as many different Santas as they can will probably require players being free to travel wherever necessary. One where players have to find items from a list of possible stocking fillers could be done in Walmart.
If you've found these ideas helpful, you may also like our other Christmas scavenger hunt and winter scavenger hunt ideas.