Here are 10 Christian Easter scavenger hunt clues that are perfect for using with a youth group or as a fun activity for a Bible study.
There's also a free printable worksheet that you can download – keep reading for more details.
Here's how to organize this scavenger hunt idea based on the Easter story:
Resources
Easter scavenger hunt clues worksheet

Pens
All the items listed as answers – see the clues below for what these are. You'll need enough of each item for one per person / pair / team
Preparation
None, other than putting the items in a suitable place if there aren't any already there.
Teams
If doing this activity with just a few players, it can be done individually or in pairs. For a larger group, split them in to small teams so that they can work together.
You'll need to make sure that there are enough items available for each team, so you may need to limit the number of teams accordingly.
Instructions
This Christian Easter scavenger hunt has two parts. First, the players have to answer all of the clues below and write their answers on the worksheet.
Once they've answered all the clues, they need to go and find each of the items.
** VERY IMPORTANT!! These Easter scavenger hunt clues are based on the NIV translation of the Bible. If you're using a different scripture translation, make sure that the answers are still the same. **
Items
The items that they'll be looking for are things that will hopefully be readily available at most churches. Like we mentioned above though, bring along extra items if necessary so that there are enough of them for one per team.
Any extra items that you bring should be left in a place where they might normally be found. e.g. cups and bowls in the kitchen, stones outside, sponges in a cleaning closet or kitchen, etc.
Advise players in advance that they don't have to be too literal when looking for the items. For example, one of the answers is "Silver". They don't have to find an actual piece of silver – instead, it can be an item that's silver in color. Obviously, don't give them the answers in advance when you're explaining this!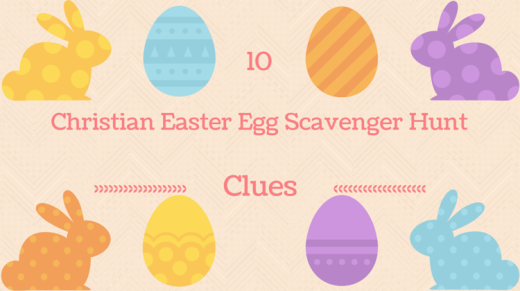 Here are the 10 clues that you can give the players along with the answers to each one. Beneath the list of clues is a link to download the free printable worksheet.
The worksheet consists of two pages – the first is the page that you'll give to the players, while the second page is for you only as it has all the answers on it.
1. Matthew 27:42 – "He saved others," they said, "but he can't save himself! He's the king of Israel! Let him come down now from the __________, and we will believe in him. Cross
2. Mark 14:36 – "Abba, Father," he said, "everything is possible for you. Take this __________ from me. Yet not what I will, but what you will." Cup
3. Luke 22:35 – Then Jesus asked them, "When I sent you without purse, __________ or sandals, did you lack anything?" "Nothing," they answered. Bag
4. Matthew 27:3 – When Judas, who had betrayed him, saw that Jesus was condemned, he was seized with remorse and returned the thirty pieces of __________ to the chief priests and the elders. Silver
5. John 19:29 – A jar of wine vinegar was there, so they soaked a __________ in it, put the __________ on a stalk of the hyssop plant, and lifted it to Jesus' lips. Sponge
6. Mark 14:18 – While they were reclining at the __________ eating, he said, "Truly I tell you, one of you will betray me — one who is eating with me." Table
7. Matthew 27:59 – Joseph took the body, wrapped it in a clean linen __________ Cloth
8. Matthew 26:23 – Jesus replied, "The one who has dipped his hand into the __________ with me will betray me. Bowl
9. John 20:1 – Early on the first day of the week, while it was still dark, Mary Magdalene went to the tomb and saw that the __________ had been removed from the entrance. Stone
10. John 19:34 – Instead, one of the soldiers pierced Jesus' side with a spear, bringing a sudden flow of blood and __________. Water
Printable Easter Scavenger Hunt Clues worksheet
If you liked this idea, check out all our other Easter and Bible-related scavenger hunts.