Here's a free Earth Day scavenger hunt list you can use if you're looking for fun ideas and activities to do on April 22.
This will have a positive impact on nature in your local community while being a fun, competitive activity.
There's also a free printable copy of the list that you can use – see below for the link to download it.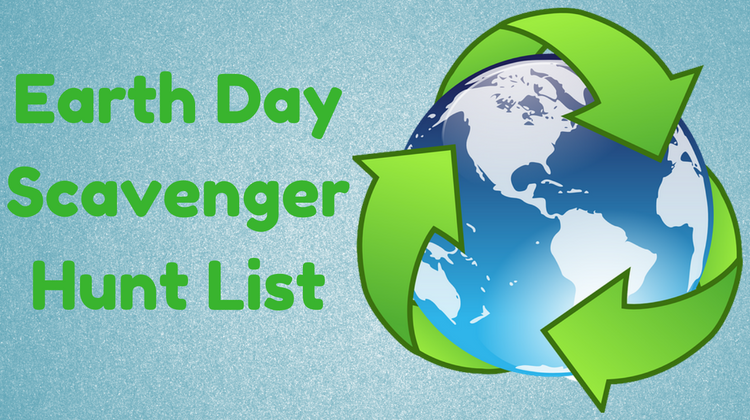 Players
This Earth Day activity can be done with any type of group:
Adults

Your kids and their friends
Youth group
School class
It can also be played with any number of people, but more players is better as it means more trash is picked up and therefore more recycling can be done.
Resources
Scavenger hunt list (see below)

Pens
Trash bags (at least two per team)
Protective gloves
Idea
Split the group into teams and provide them with the resources listed above.
Their task is to hunt for all the items of trash in the list below and pick them up. This will help make their neighborhood or community a cleaner, greener, more eco-friendly place for Earth Day.
As people will be working together, this is also a great team building scavenger hunt.
Safety
If you're organizing this activity with kids or youth, warn them about picking up broken glass and to be careful of other sharp objects (e.g. needles).
It's also a good idea to have at least one adult supervising each team of young people. It may not be necessary for older teens, but can still be a great opportunity to do some relationship building.
Points
Ultimately, the aim of this Earth Day scavenger hunt is to clear up discarded trash and improve nature in your neighborhood. To make it more fun though, the teams will be competing against each other to see who can score the most points.
Award 1 point for each item found, with 3 bonus points for each completed section. Award 0.25 points for each additional item once a section has been completed.
For example, one of the items on the list is to pick up five plastic bags. If a team found 7 plastic bags, they'd earn 8.5 points:
5 x 1 point for the initial 5 bags listed = 5
3 points for completing the section = 3
2 x 0.25 points for the additional bags = 0.5
Total = 8.5
Tip
To make recycling easier, have teams put recyclable items in one trash bag and non-recyclable items in a separate bag.
List
Here's the Earth Day scavenger hunt list for you to use. There's also a link below to a free printable copy of the list – there are two copies of the list per page, reducing the amount of paper you need to print off.
10 cans

10 plastic bottles
10 bottle caps
10 candy wrappers
10 cigarette butts
5 glass bottles
5 plastic bags
5 sheets of paper
5 fast food bags
5 potato chip bags
5 soda cups from fast food restaurants
5 receipts
4 empty cigarette packets
3 cardboard sleeves for fries
3 batteries
2 pizza boxes
1 Pringles tube
1 item of clothing
1 electronic item
1 car tire
Printable Earth Day Scavenger Hunt List

If you liked this idea, check out all of our other free scavenger hunt lists.