A shopping mall is a great place to organize a scavenger hunt as there's so much there that you can have players look for and find out.
Today's idea is therefore a fun mall scavenger hunt for kids, although it can just as easily be used with older teens and youth groups and is perfect for team building.
It also has a free printable worksheet with a list of 20 questions they need to answer – keep reading to get your copy.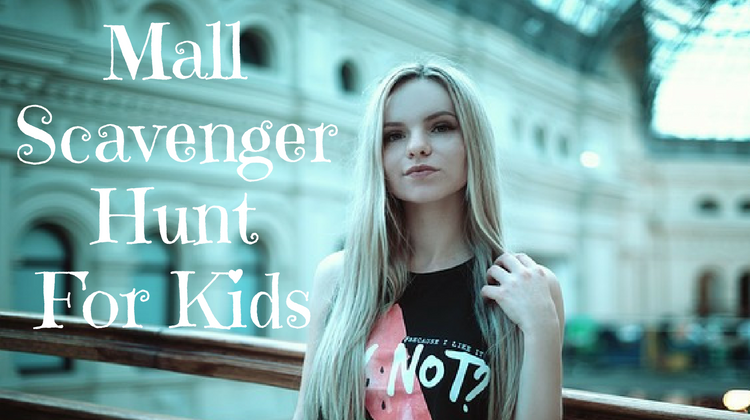 Resources
List of questions (see below)
Pens
Preparation
Most of our ideas require little to no preparation. This one's an exception, but it'll be worth it!
You need to some research before you organize the scavenger hunt and find answers to all 20 questions listed below.
You should be able to find at least half of the answers on the mall's website – things like 'What store name comes first in the alphabet' and 'What's the mall's phone number'.
Some of the questions will mean you have to take a trip there too – that way you can find out how many ATMs there are, how many vending machines there are, etc.
Bear in mind that they may not keep their website completely up to date, so it's worth taking a quick look at the mall directory when you get there. New stores may have recently opened or some may have closed, so this could affect the answers you found when researching online.
Teams
This can be a great team building scavenger hunt, so if you're playing with a group of kids or young people, split them into teams of 2-5 (depending on how large the group is).
The game can just as easily be played with one or two children though.
Instructions
Give each of the players / teams a copy of the worksheet containing the scavenger hunt questions and a pen.
Explain that their task is to go around the mall and answer as many of the questions as they can.
Arrange a meeting place and give them a time limit, then send them off hunting for the answers.
Questions
Here's the list of 20 questions you can use for this game – beneath this is a link to the free printable worksheet.
We've tried to make the questions as generic as possible so that they can be used at pretty much any mall, although some malls may not have elevators or a movie theater.
What store name comes first in the alphabet?
How many restaurants are in the food court?
How many trash cans are in the mall?
How many restrooms are there?
How many vending machines are there?
What store has the shortest name?
How many stores have a number as part of their name?
How many places could you get your hair cut?
How many seats are there in the food court?
How many stores could you buy a cellphone from?
How many different movies are being shown at the movie theater?
How many ATMs are there in the mall?
What's the most common letter for a store's name to start with?
What's one place can you buy glasses or contact lenses from?
How many elevators are there?
Who is the mall owned by?
How many massage chairs are there?
How many stores aren't advertising a sale in their front window?
What's the mall's phone number?
How many stores and kiosks are there in the mall?
Printable Mall Scavenger Hunt Questions
Points
Players / teams should earn 1 point for every correct answer. If there's a tie, the winner should be whichever child (or team of kids) arrived at the meeting place first.
Other Ideas
If you liked this idea, check out all our other mall scavenger hunts. You may especially like this one that contains 4 lists of funny video and photo tasks teenagers have to complete.