If you want to plan a fun indoor activity on Thanksgiving Day – or in the week leading up to it – here are 10 Thanksgiving scavenger hunt clues you can use.
These rhyming clues will lead your kids to different places around the house. We've also provided a free printable worksheet below with these clues on.
Here's how to organize it: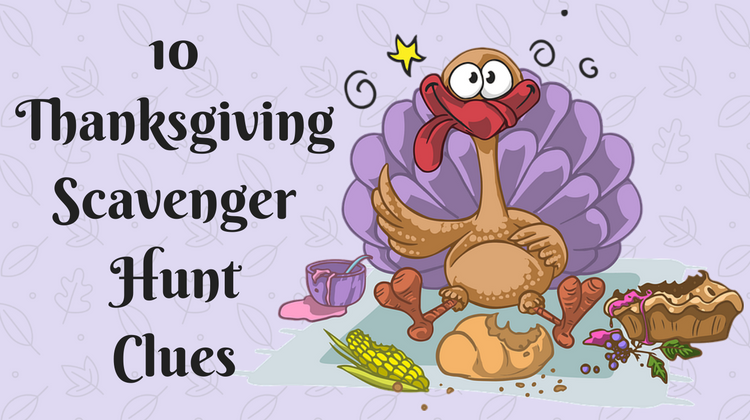 Resources
Scavenger hunt clues (see below)
10 Thanksgiving-themed items (or pictures of the items)
Scissors
Sticky tape
Preparation
Hide all 10 of the items in the locations listed below.
On each of the items, stick the clue for the next thing that your kids will need to find. i.e. attach the 2nd clue for the sweet potato to the turkey, the 3rd clue for the pumpkin to the sweet potato, etc.
Instructions
Explain to your kids that they're going to be playing a Thanksgiving scavenger hunt. Give them the first clue and have them go find the turkey.
When they've found that, they'll have the second clue – get them to keep going until they've found all 10 Thanksgiving items.
Tips
You don't have to be too literal with the items. For example, you don't have to hide a frozen turkey – a turkey plush toy is fine. Otherwise, print off images of all the items and stick those up instead.
Some items might be hidden in similar places, such as the pumpkin in the bath / cornucopia in the bathroom. In those instances, try to use different rooms (although it might not be possible if you only have one bathroom)
Prize
If you want to offer a prize, why not give them a bag of candy corn seeing as that's the final clue's item.
Clues
Here is the list of 10 Thanksgiving scavenger hunt clues for kids. It lists all 10 items that you need, as well as where they should be hidden / placed.
Beneath this is a free printable scavenger hunt sheet with all these same clues on.
1. Turkey – Oven
You're looking for a turkey
A gobble is its sound
The place where it will get cooked
Is where it can be found
2. Sweet potato – Top shelf of a book case
Next up is a sweet potato
That's sometimes made into a pie
You will be able to find this
Where our books are stored way up high
3. Pumpkin – In the bath
A pumpkin is your third item
This famous orange squash
And it is currently hidden
The place where you go wash
4. Football – Dishwasher
A football is what's up next
Which is an item that gets kicked
It is sitting on a rack
Where you put things that have been licked
5. Scarecrow – Closet / wardrobe
Next up is a scarecrow
The friend of Tinman and Lion
He's been put in the place
Shirts go once pressed by an iron
6. Corn – Curtains / blinds
Your sixth Thanksgiving clue
Will help you find some corn
So look on the items
That at night will get drawn
7. Cranberry – In or under a pillow
A cranberry's what you need now
A fruit that is small and red
Hopefully it isn't squished
As it's where you lay your head
8. Cornucopia – Bathroom
Where is the cornucopia?
Well, here is your clue
It's in the room that contains what
The British call a loo!
9. Pine cone – Front door
A pine cone is an item
In the fall you will often see
This one has been attached to
What is opened with a key
10. Candy corn – Sofa or another chair
Your tenth and final Thanksgiving clue
Is really kind of sweet
As you're looking for some candy corn
Where you might take a seat