Spooky Yards is a fun Halloween scavenger hunt for kids that they'll enjoy while exploring your neighborhood.
It's simple to organize and play and is a great way to get your kids outdoors for some fall fun.
We've also provided a free printable list below – keep reading to get your copy.
Here's how to play it: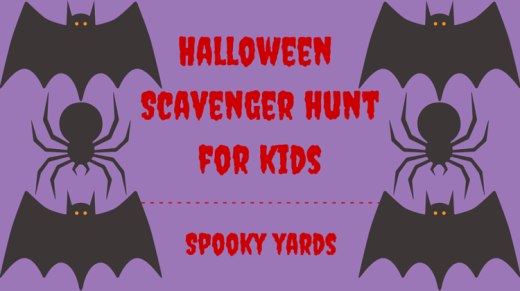 Resources
List of yard ornaments (see below)
Pens
Preparation
None
Location
The best place to play this is your neighborhood, provided you have plenty of neighbors who decorate their yards for Halloween.
If that doesn't happen on your street, you'll need to walk / drive to a different neighborhood that has plenty of yard decorations.
When
This could either be played in the days leading up to Halloween or on 31 October while trick or treating to make the night even more fun.
Teams
If you're playing this with your own kids, you can walk around together trying to spot all the items on the scavenger hunt list.
To make it more competitive, get together with some of your kids' friends and their parents and each take a couple of different streets to see who can find the most ornaments.
Instructions
Give the kids a copy of the list of Halloween yard ornaments that you can find below.
Explain that their task is to walk around your local area and see how many of the different ornaments and decorations they can find.
List
Here's the list of 20 different yard ornaments that you might see at Halloween.
Beneath this is a link to download a free printable version of this scavenger hunt list – there are two copies of the list on the page to reduce the amount of paper you need to use.
Skeleton flamingos
Bat
Zombie
Vampire
Something that lights up
Spider
Jack O'-Lantern
Black Cat
Skeleton
Witch
Ghost
Spider web
Something inflatable
Frankenstein's Monster
Tombstone
Haunted house
Arm sticking out of the ground
Cauldron
Skull
Broomstick
Printable Halloween Scavenger Hunt For Kids
If you liked this idea, check out all our other Halloween scavenger hunt ideas.