If you want to plan a fun activity for your Dad (or your partner on behalf of your kids), here are some Fathers Day scavenger hunt clues you can use.
1. Where
For the first part of this idea, decide where you want to hide your Fathers Day gift – in the garage, under the bed, in the shed, under the sofa, etc.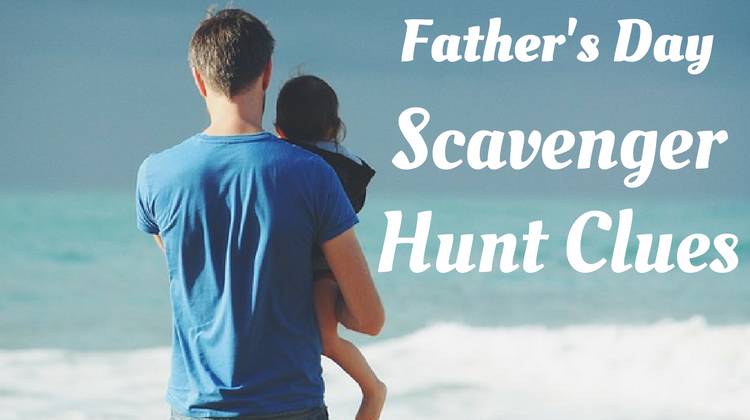 2. List
Next, make a list of items that begin with each of the letters in the clue, making sure they're all items you have available to you.
For example, if the clue is going to be "under the sofa", the list of items could be:
Umbrella
Nail
Dice
Egg
Rope
Toothbrush
Hat
Earrings
Shorts
Onion
Flag
Apron
3. Show Your Love
Get some post-it notes and write down several things you love about your Dad – one note for each of the items – and stick them on each of the items.
4. Hide
Once you've written all the notes, hide all the items in plain sight. Don't make it too hard to find them in case he finds his gift in the process!
5. Hunt
You're now ready to send your Dad off on his special Fathers Day scavenger hunt. Let him know how many items he's looking for and that they all have a post-it note on them.
6. Clues
Once he's found everything, explain that these items are his clues. Give him a piece of paper and a pen and tell him to write down the first letter of each item.
7. Anagram
Once he has all the letters, let him know that he has to rearrange them to find the hiding place. If it takes him a while, give him a hint by letting him know how many different words there are.
You may also need to let him know if he comes up with the wrong word for any of the items. For example, he might note down 'cap' instead of 'hat', 'hairbrush' instead of 'brush', 'handsoap' instead of 'soap, etc.
8. Find
Once he's solved the anagram, it's time to go find his gift.
If you liked this idea, check out all our other free scavenger hunt ideas.