Trick or treating can be a lot of fun for your kids, but here's a way to double the enjoyment – combine it with a Halloween costume scavenger hunt.
It doesn't need any preparation, so it's really easy to organize – we've even produced a free printable scavenger hunt list below for you to download.
Here's how to play it: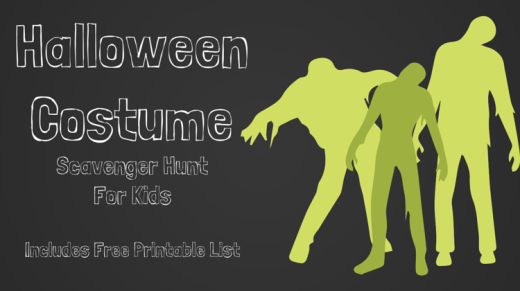 Resources
Preparation
None
Instructions
Give your kids a copy of the list of 40 different costumes (this can be found below).
Explain that their task is to keep an eye out while they're trick or treating to see if they can find other kids wearing all the different Halloween costumes.
List
Here's the list of 40 Halloween costumes for your kids to hunt for. Beneath this is a link to our free printable sheet containing this same list – please feel free to print as many copies as you need for your children.
Witch
Cowboy / Cowgirl
Werewolf
Princess
Mummy
Superman / Superwoman
Pirate
Zombie
Super Mario
Luke Skywalker
Astronaut
Pumpkin
Buzz Lightyear
Angry Bird
Iron Man
Butterfly
Firefighter
Devil
Fairy
Thor
Vampire
Frankenstein's Monster
Police Officer
Spiderman
Wizard
Skeleton
Ninja
Harry Potter
Batman
Grim Reaper
Captain America
Cookie Monster
Where's Waldo
Dinosaur
Lion
Soldier
Darth Vader
Bumblebee
Ghost
Clown
Printable Halloween Costume Scavenger Hunt List
Costume Ideas
If you still need some ideas of what costume to get for your kids, here are some suggestions: