In the past, we suggested 5 Halloween scavenger hunt ideas that you could use at the end of October.
One of those ideas was to organize a Halloween photo scavenger hunt, so to save you time, here's a guide for how to plan it.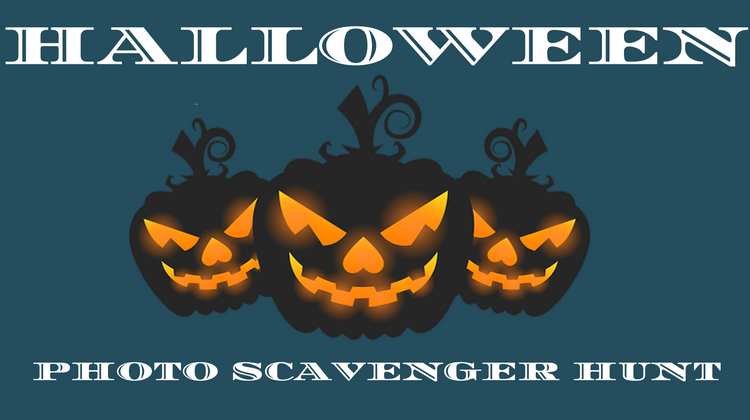 Resources
See the list of items we suggest on our scavenger hunt equipment page.
Location
A Halloween photo scavenger hunt can be done anywhere. A couple of good options though are:
Your neighborhood – Players can walk around taking photos of items that your neighbors have in their yard that match those on their list of things to find
Mall – At Halloween (or in the weeks leading up to it), stores will have all kinds of Halloween related items and decorations. Players can therefore search all the stores for the items on their list.
List Of Items
This should have all kinds of different Halloween themed items. Most will be easy to find, but try to throw in some items that are harder to find.
Check out our Halloween scavenger hunt list page for ideas – this has a list of items to get you started, as well as a copy of the list that you can download and print.
Bonus Tasks
To make it even more fun – and to make the photo scavenger hunt even trickier – consider adding in some bonus tasks that players have to complete. Again, we've given some ideas to get you started on our Halloween list page.
Winner
The person or team with the most points at the end. This will be calculated based on the number of items they were able to find and take photos of, along with any bonus points they scored (if you choose to offer bonus points).
Prize
This will depend on whether it's kids or adults taking part in the Halloween photo scavenger hunt, although candy usually works well for both!
Otherwise, Halloween stickers, decals or glowsticks always prove popular with kids.
For adults, you could give a gift card (maybe to Starbucks so they can get a pumpkin spice latte), or a case of Samuel Adams harvest collection beer.
If you like this idea, you may like our other ideas for organizing a photo scavenger hunt.