If you're looking for a Halloween scavenger hunt list, you've come to the right place!
On a previous post, we gave you 5 Halloween scavenger hunt ideas. To do some of those ideas though, you need a list of items for people to find.
We'd recommend doing this as a photo scavenger hunt, but you could always organize it where players have to obtain each of the items. If you wanted to add the bonus tasks though, players will need to be able to take photos.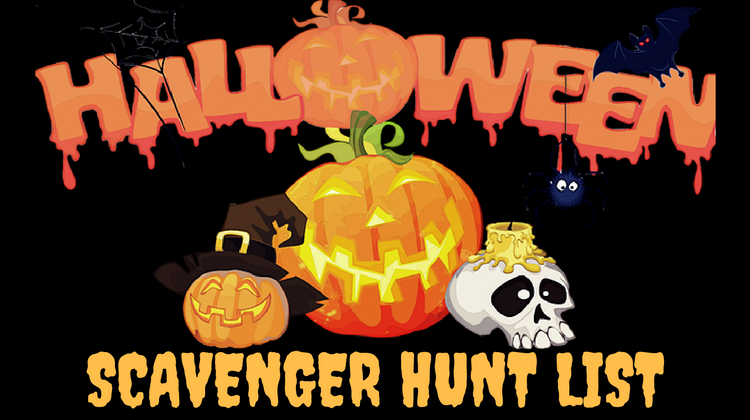 Halloween Scavenger Hunt List
To make things easy for you, we've listed 22 Halloween-themed items below for players to find. To make things even more fun, we've also included four additional tasks that players / teams can earn bonus points for.
These tasks are a little different, in that the bonus points should be awarded based on things like creativity, ingenuity, how funny the photos are, etc.
Beneath the items and bonus tasks, there's a link to a PDF containing this same list of items – you can download this for free and print as many times as you like. The list is set out so that you can give each player or team their own copy without you needing to do anything else.
Halloween Items
Pumpkin

Cauldron
Witch
White sheet
Broomstick
Eyeball
Pumpkin candy
Vampire
Black cat
Frankenstein
Spider
Trick
Treat
Ghost
Apple
Bat
Skeleton
Cobweb
Werewolf
Mummy
Witch's hat
Zombie
Bonus Tasks
Weirdest Halloween costume
Members of the public pulling scary faces
Use a flashlight in a room to pull a scary face
Bobbing for apples in an unusual place
Printable Halloween Scavenger Hunt List
If you've found this helpful, check out our other scavenger hunt lists.