If you're going to travel with your kids and stay in a hotel, here's a fun hotel scavenger hunt list to help keep them entertained.
It contains 10 items that they need to find and also has 10 questions about the hotel that they need to answer.
Here's how to organize it: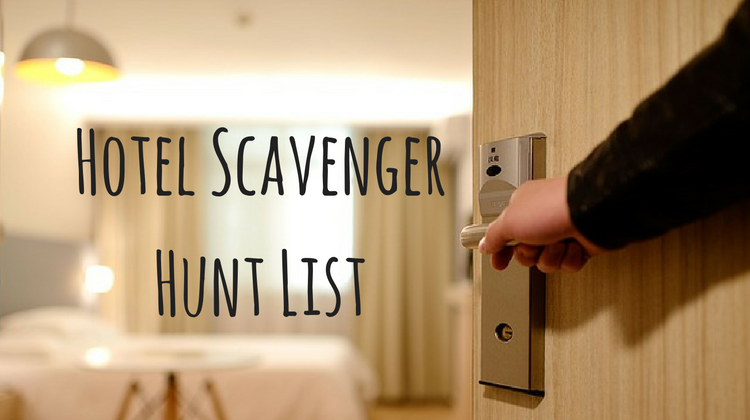 Resources
Printable scavenger hunt list (see below)
Preparation
None
Idea
Give your kids a copy of the list. Explain that for the first part of the scavenger hunt, they have to find all 10 items on the first part of the list. Some of the items will be in your room, but the rest can be found around the hotel.
Once they've completed that section (or found as many items as it's possible to), have them find answers to the 10 questions on the second part of the list.
List
Here are the items and questions that make up the hotel scavenger hunt list. There's also a link to download a free printable copy of the list beneath the items and questions.
Items
Local map
Something printed from the computer in the business center
Do Not Disturb sign
Envelope
Brochure for an outdoor activity nearby
Brochure for an indoor activity nearby
Plastic spoon
Pen
Laundry bag
Bucket of ice
Questions
How many pillows are in the bedroom?
How deep is the swimming pool?
How many parking spaces are there?
What is the check in time?
How many different snacks are in the vending machine?
How many treadmills are in the fitness room?
What time does the swimming pool open?
How many rooms are in the hotel?
What's the name of the employee at the front desk?
What time is breakfast served from and until?
Printable Hotel Scavenger Hunt List
If you liked this scavenger hunt idea, check out all of our other free ideas and lists.