If you're looking for a human scavenger hunt list, here's a free one that you can use.
There's also a free printable copy of the list that you can download and save for future use – just keep reading to get a copy.
Here's how this scavenger hunt idea works: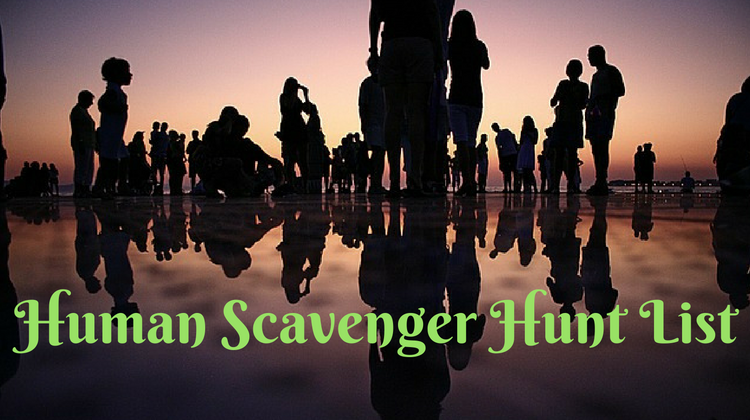 Resources
List of people for players to find (see below)

Pens
Cameras (cell phone cameras are fine)
Idea
Give the players a copy of the list of 20 different people that you can find below. As this is a photo scavenger hunt, their task is to find people matching the descriptions listed and take a photo of them.
Teams
This is a great activity for people of any age, so can be done with kids, youth groups or adults, or a mix of ages for a fun inter-generational game.
It can also be done individually, in pairs or in small teams, so can be played no matter how many players you have.
Points
Players earn one point for each covert photo they take (i.e. where the person being photographed isn't aware that their photo is being taken).
Players can earn two points though for each photo they take where the person poses for the photo. With 20 different people listed, they can therefore earn up to 40 points.
Location
The best place to play this human scavenger hunt is the mall, as there will be a wide range of different people there. Alternatively, Walmart or anywhere else with large numbers of people will be suitable.
Rules
If you're planning this for kids or a youth group, take some time to go over these rules as many of them will be valid no matter what location you play this at.
Youth Groups
If this game is being organized for a youth group, it's a great way to get discussion going about diversity and tolerance of people who are different from themselves.
It's therefore also perfect for using in conjunction with a youth work session about judging people by their appearance.
Human Scavenger Hunt List
Here's the list giving descriptions of 20 different humans for players to find. There's also a free printable copy that you can also download and save for future use immediately beneath the list.
Wearing shorts
3+ facial piercings
Wearing a NY Yankees baseball cap
Identical twins
Wearing a scarf
Carrying a bag from Gap
Wearing sunglasses
Shaved / bald head
Wearing red socks
Green eyes
Tattoos on both arms
Wearing military uniform
Wearing a green T-shirt
Wearing pink glasses
Wearing flip-flops
Male with long hair past his shoulders
Purple hair
Wearing name badge
Adult with 5 children
Wearing ripped jeans