If you're interested in getting some indoor scavenger hunt ideas to play with your kids, here's an idea that will get your children thinking and should keep them busy for quite some time.
Here's how to play the Alphabet Hunt: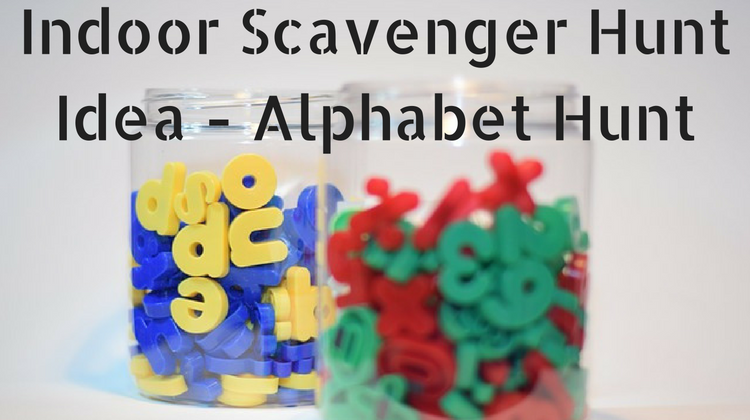 Resources
Paper – 1 sheet per player

Pen
Boxes (optional – see additional rule below)
Preparation
None, unless you'd like to write out the letters of the alphabet on the sheets of paper yourself. You can have your kids do this themselves though if you want.
Instructions
Explain to the players that this is going to be a DIY scavenger hunt. This isn't DIY in the traditional sense – instead, it stands for Decide Items Yourself.
This means that the players will have to choose what items they're going to collect, but they have to meet the following criteria:
All the items need to be found indoors around the house

They need to collect 26 items in total

The items each need to begin with a different letter of the alphabet
Encourage them to write down which items they've collected as they go along, so that they don't forget which letters they still need to find items for.
This can also help ensure they don't forget what letter they've collected an item for – was that 25 cent piece collected as Q for quarter or C for coin?!
Example
They should therefore end up with 26 items that look something like this list:
Apple
Blanket
Cushion
Deoderant
Egg
Flag
Glue
Hair
Ice
Juice
Key
Lid
Mirror
Napkin
Orange
Pen
Quarter
Ribbon
Soap
T-shirt
Umbrella
Vase
Watch
Xbox
Yo-yo
Zip
Additional Rule
If you want to make this indoor scavenger hunt a little harder, give each of the players a box and state that all of the items have to be able to fit inside the box.
Winner
The first player to collect 26 items that begin with each letter of the alphabet (and which fit inside the box if you include that rule).