If you want to plan a fun game that can be played with your kids this fall, here's a great indoor Thanksgiving scavenger hunt idea.
It doesn't take long to prepare and, depending on how hard you make it, could use up quite a bit of time if you want it to.
Here's how to play it: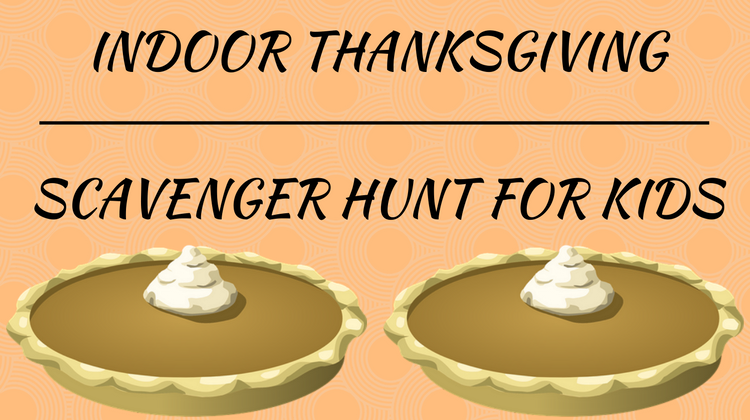 Resources
Pens
12 items (see below)
Preparation
Make a list of 12 items you have around the house that each start with one of the letters that make up the word Thanksgiving.
For example, your list might look something like this:
Trashcan
Hairbrush
Apron
Necklace
Ketchup
Sink
Glass
Iron
Vase
Icecream
Napkin
Glue
Next, stick a blank orange post it note on each of these items. You could use any color post it, but the orange color goes with the Thanksgiving theme.
Difficulty Level
To make this Thanksgiving scavenger hunt take longer, choose items that will be harder to find, especially if they will be more hidden.
For example, a ketchup bottle that's placed behind other items inside the fridge will be harder to find than if the K was used for keys, which are then left on the kitchen table with the post it note on top.
Easy to find items are therefore better for younger kids, while items not in plain view would be better for older kids or if you want the activity to last longer.
Instructions
Tell your kids that there are 12 items indoors that have a post it note stuck on them.
Explain that their task is to find all of these items. As they find each one, they should write on the post it note the first letter of the item they found it on.
Once they've found all 12 items, they should rearranged the notes to spell out a word.
Tip
Keep an eye on what letters your kids write down in case they use the wrong letter. For example, they might write down B for brush rather than H for hairbrush, or J for jewelry instead of N for necklace.
Other Ideas
We have loads more Thanksgiving scavenger hunt ideas – be sure to check them out for even more fun games.