If you want to organize a fun chemistry assignment that can either be used during a school lesson or given as homework, here's a free printable periodic table scavenger hunt worksheet you can use.
This scavenger hunt for kids is a great way to get your students taking more of an interest in the elements making up the periodic table, while also encouraging their creativity in the classroom.
Here's how to organize it: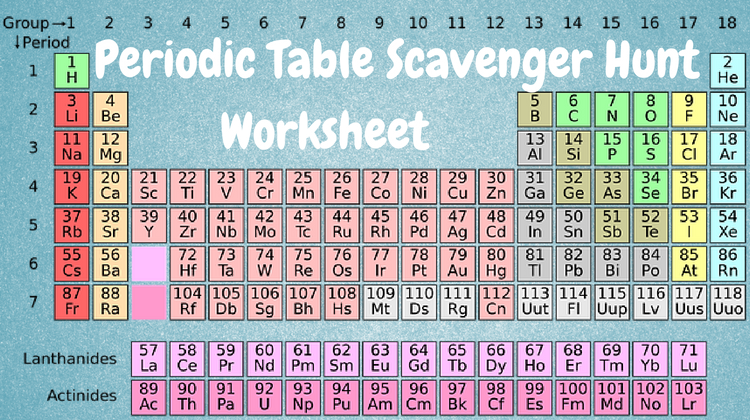 Resources
Worksheet (see below)

Computers with internet access
Pens
Idea
Provide all of the students with a copy of the worksheet that contains 25 different elements from the periodic table. Their task is to think of items that best represent the different elements, then to go online and find images of them on the internet.
Once they've found the images, they should copy and paste them into a separate document, labeling each of the images so that it's clear which element they're supposed to represent.
Images
It's up to you how literal you'd like your students to be when it comes to what kind of images they use. Here are a few examples of how some different elements could be interpreted:
Gold
Jewelry

Rumpelstiltskin

Olympic medal
Carbon
Pencil

Diamond
Exhaust fumes
Mercury
Thermometer

Planet
Singer of Queen
As you can see, there are many different ways the elements could be represented, so allow them some more freedom if you want to encourage their creativity.
List Of Elements
Here's a list of 25 elements that are perfect for using for this science activity. Beneath this, there's a link to download a free printable copy of the list as a worksheet that you can then hand to your students.
Hydrogen
Helium
Carbon
Nitrogen
Oxygen
Fluorine
Neon
Sodium
Magnesium
Aluminum
Silicon
Sulfur
Chlorine
Potassium
Calcium
Iron
Nickel
Copper
Krypton
Silver
Tin
Platinum
Gold
Mercury
Lead
Printable Periodic Table Scavenger Hunt Worksheet
If you liked this idea, check out all of our other school scavenger hunt ideas