Use these mall scavenger hunt lists for teenagers if you want a funny activity to do with a youth group or for a birthday party.
It's also perfect if you want ideas for a great team-building activity for young people.
This is both a photo and video scavenger hunt, so there will be a lot of stuff to look at and watch afterwards to give you all a good laugh!
Here's how to organize the game: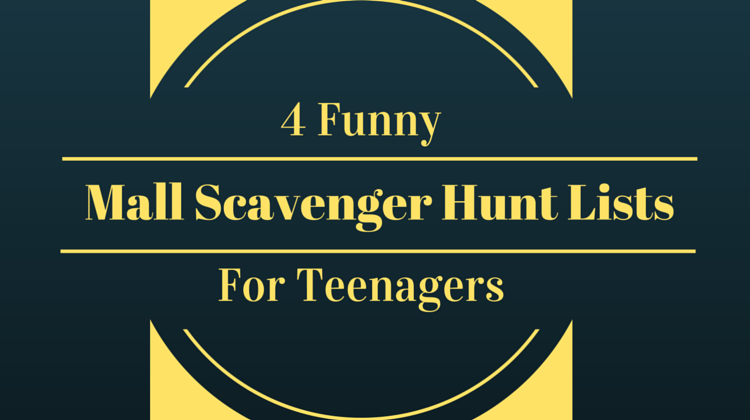 Resources
Phones or cameras that can take both photos and video footage

Mall scavenger hunt lists (see below)
Pens
Preparation
Call the mall in advance to discuss the tasks that the teenagers will be doing. It should be fine, but it's worth checking in advance to ensure that they don't get in trouble.
Teams
Split the group into teams – four teenagers per team is ideal for this particular activity, but there can be more or fewer people per team if necessary.
Each team should have an adult to go with them – this not only helps ensure there are no problems, but half of the tasks will require the adult to take the photo or video.
How To Play
Give each team all of the resource items listed above. Explain that they have to complete all four tasks on all four of the mall scavenger hunt lists.
Half of the tasks require the entire group to take part, while the other half only require one person to complete them – that shouldn't be the same person doing each task though.
The tasks are split up as follows:
4 photo tasks for one person to complete

4 photo tasks for the whole team to complete
4 video tasks for one person to complete
4 video tasks for the whole team to complete
If you've managed to organize it so that there are exactly four people on each team, set an additional rule that each person has to complete one individual photo task and one individual video task.
Arrange for the adults to take all the photos and videos, mainly because half of the challenges need all the teenagers to participate in them. Suggest to the adults that they take the photos and videos as subtly as possible so that they can get genuine reactions from members of the public.
Confirm a time and location to meet at the end and then send them off to complete the challenges.
Points
Award one point for each task that's completed by the end of the game. You can then award bonus points based on how outrageous, funny or creative their photos and videos are.
Watch
As this is such a funny scavenger hunt, try to find time afterwards to show everyone each other's photos and videos. They'll love laughing at all the images and clips and it can create great memories which is useful for team-building.
Tasks
Below you can find four different mall scavenger hunt lists, each with four activities as mentioned above.
Beneath the 16 tasks, there's a link to download a free printable copy of these lists – please feel free to use this to make as many copies as you like.
Photo Tasks – For One Person
Pose in a shop window
Propose to a security guard
Try on the ugliest item of clothing you can find
Hug a member of the public
Photo Tasks – For The Whole Team
Jump in the air at the same time with five additional members of the public
Pretend like you're playing Twister without the mat
I can't believe we all fit in here
Lay on the ground, spelling out a word with your bodies
Video Tasks – For One Person
Dance with a mannequin
Ask a shop worker "Which terminal does flight DF265 leave from?" Act confused when you find out you're not in an airport
Sit at a table with a random member(s) of the public in the food court and start talking to them
Help someone sweep or clean a floor
Video Tasks – For The Whole Team
Play air guitar with at least ten people watching you
Sing "Happy Birthday To You" to a shop worker, making sure you use their actual name (it doesn't have to be their birthday!)
Do a group dance in the middle of the mall
Perform a catwalk in a clothing store
Printable Mall Scavenger Hunt Lists For Teenagers
If you liked these ideas, check out all of our other mall scavenger hunts on this site and our sister site for even more ideas. For loads of great ideas for other youth group games, check out Youth Workin' It.