If you and your friends are Michael Jackson fans, why not organize a photo scavenger hunt based on some of his song titles.
Here's how to organize this music scavenger hunt idea which includes a free printable list: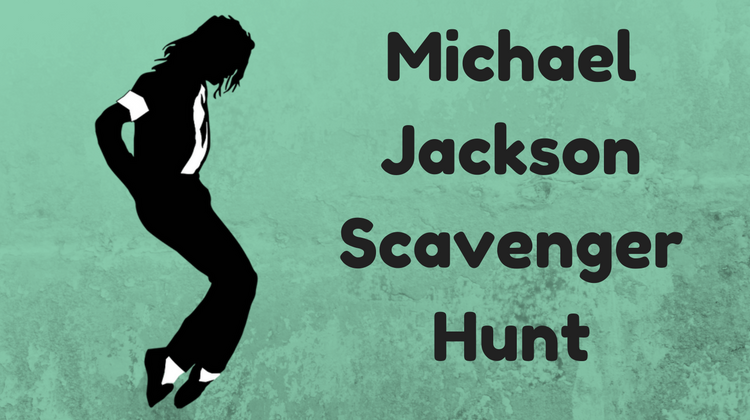 Resources
List (see below)
Pens
Cameras (cellphone cameras are fine)
Preparation
None
Teams
This can be played in small teams or individually – small teams tend to be more fun though.
Instructions
Give each team / player a copy of the list of songs (see below). Advise them that their task is to take photos of each of the song titles.
Explain that they don't have to be too literal with the photos – in fact, the more creative their interpretations of the Michael Jackson songs, the better!
Examples
Give them a few examples to show what kind of photo ideas you're looking for:
Black Or White – A pint of Guinness or a salt and pepper shaker
Off The Wall – A broken egg on the ground (as in from where Humpty Dumpty fell!)
Smooth Criminal – A male player dressed as a thief shaving his face
Heal The World – An atlas with a Band-Aid on it
List
Here's a list of 15 songs by Michael Jackson that you could use for this scavenger hunt. The song titles are all perfect for players interpreting in different ways, making their photos fun and unique.
Beneath this is a link to a free printable list – please feel free to make as many copies as you need to organize this game.
Don't Stop 'Til You Get Enough
Rock With You
Off The Wall
Beat It
Thriller
Bad
Man In The Mirror
Another Part Of Me
Smooth Criminal
Leave Me Alone
Black Or White
Jam
Heal The World
Scream
You Are Not Alone
Printable Michael Jackson Scavenger Hunt List

Points
Award one point for each song title that a team takes a photo of, meaning a possible total of 15 points for the first part.
Next, award bonus points for some of the best photos. This could be based on how funny the photo is, that a team got members of the public to be involved, how creative the picture is, etc.
Alternatively, you could award one point for the best photo for each song.
Winner
The winning team / player would be whichever one scored the most after the bonus points have been taken into account.
If you liked this idea, check out all our other music scavenger hunt ideas for other artists.