This nature scavenger hunt idea is a great outdoor activity for kids.
You could do it with your own children, a youth group or as a birthday party activity.
It's easy to set up and organize – here's how to plan it: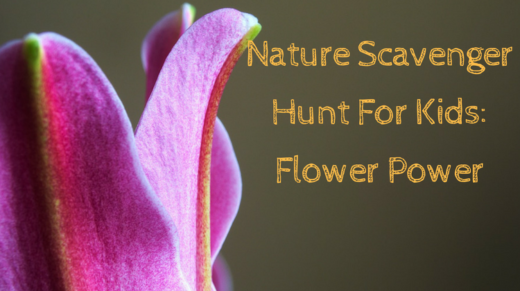 Resources
Cameras – enough for one per team (cellphones are fine)
Computer screen / TV
Preparation
Find a location that has lots of different flowers. Doing this as a neighborhood scavenger hunt can be a great idea so long as there will be enough flowers. Otherwise, a local or state park could be a good option.
Teams
If you only have a couple of people taking part they can do this activity together, or separately if you want to introduce an element of competition.
For a larger group of kids, split them into smaller teams and give each team a camera. Alternatively, have the adult that's with each team use their cellphone to take photos.
Challenge
The task for each team is to find as many different flowers as they can. To ensure that they don't damage any nature by picking the flowers, this should be done as a photo scavenger hunt where they take pictures of the flowers instead.
Time & Location
Set a time that teams have to be completed by. If you're doing this in a state park, there will probably be many flowers over a large area, so you may want to allow for 1-2 hours.
In a neighborhood, you may only need to allow for 30 minutes to an hour, unless you want to go exploring with your kids.
Display
Once the activity is over, display everyone's photos on a TV or computer so that the teams can see the photos of different flowers taken by other teams.
Points
In this nature scavenger hunt, award one point for each different flower that a team takes a photo of. The team that's taken photos of the highest number of different flowers wins.
Prizes
If you want to offer a prize to the winning player / team, here are a few ideas for flower-themed prizes:
Suitable for both boys & girls:
Suitable for girls only:
If you liked this idea, check out all of our other nature scavenger hunt ideas.