This nature scavenger hunt list full of creatures is a fun activity to do with kids, especially if you're going to be outdoors in a national park or in a forest.
It's also a great game to organize if you're on a budget as it doesn't cost anything to play.
There's also a free printable list of the creatures that you can download – the link can be found immediately beneath the list.
Here's how to do it: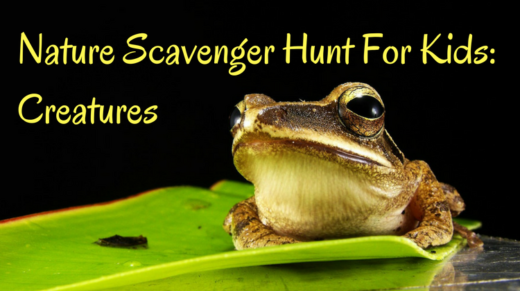 Resources
Nature scavenger hunt list – Creatures (see below)
Pens
Cameras (optional)
Preparation
None
Teams
This will depend on how many kids will be involved. If you have 2+ kids taking part, they could either work in pairs or individually.
For a larger group of kids (e.g. if this is a birthday party activity), split them in to pairs or small teams to add a more competitive element. You may then want to turn this into a photo scavenger hunt, whereby teams take photos of the creatures as proof when they find them.
Location
This can be done anywhere in nature that there might be a good selection of creatures that are on the list. This includes:
National and state parks

Forests
Fields
Mountains
Neighborhoods
Instructions
Give each player / team a copy of the list of creatures that they need to find, along with a pen to check off each animal, insect or bird that they find.
Set a time limit that they have to be completed by and then get hunting. If there are multiple teams, also arrange a meeting place for everyone to return to at the end.
List
Here's a list of 15 different creatures that you can have the kids look for. Beneath the list, there's a link to download a free printable copy of the list.
Caterpillar
Frog
Beetle
Squirrel
Ladybug
Worm
Deer
Spider
Moth
Snail
Ant
Woodlouse
Horse
Bird
Butterfly
Printable Nature Scavenger Hunt List – Creatures
If you liked this idea, check out all of our other nature scavenger hunt ideas.