Here's a fun idea for a Christmas scavenger hunt that you can play in your neighborhood this festive season.
It's a great way to have some fun outdoors and can be used with kids, youth groups or adults.
This is how to organize it: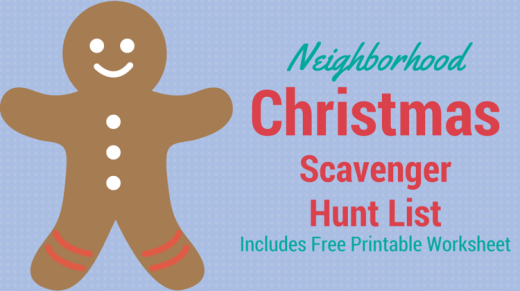 Resources
Scavenger hunt list (see below)
Pens
Cameras (optional)
Preparation
None needed.
Location
Your neighborhood, or a nearby one that has a lot of houses with outdoor Christmas lights and decorations.
Teams
This can be played as one group if used as a family activity, in smaller teams with youth groups or pairs if playing with adults.
Instructions
Give each team / player a copy of the list below and a pen. Explain that their task is to walk around the neighborhood to see how many outdoor Christmas yard decorations they can find that are on the list.
If playing with more than one team, set a time limit that they have to return by – if possible, have some hot apple cider ready for when they get back.
Team Option
If playing this with two or more teams, it might be worth organizing this as a photo scavenger hunt. To do this, ensure each team / player has a camera – cell phone cameras are fine.
They then have to take photos of each Christmas yard decoration as proof that they've seen each one.
At the end, display all the photos on your TV or a large computer monitor for everyone to see each other's photos.
List
Here's a list of 20 different outdoor decorations for the players to find.
Beneath this is a free printable scavenger hunt list containing the same items – please feel free to print as many copies as you need when organizing this game.
Snoopy
Rudolph with a glowing nose
Santa in a sleigh
Inflatable snow globe
Strings of lights with at least 300 light bulbs
Nativity scene
Toy soldier
Penguin
Candy cane
Snowman
Snowflake
Angel
Star
Polar bear
Gingerbread man
Train
Grinch
Bells
Elf
Mickey Mouse
Printable Neighborhood Christmas Scavenger Hunt List

Other Ideas
If you liked this suggestion, be sure to check out all our other ideas for Christmas scavenger hunts here.