If you want to plan a fun activity for adults, here's a great Neil Young scavenger hunt idea, complete with a free printable list.
Here's how to do it:
Resources
Scavenger hunt list (see below)

Pens
Cameras (cellphone cameras are fine)
Preparation
None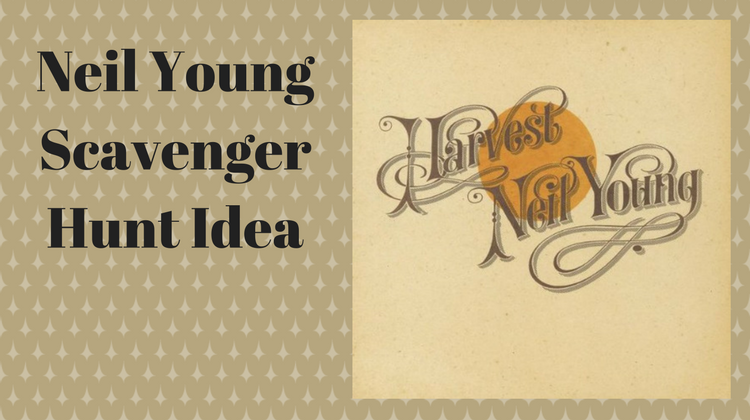 Idea
Give the players a list of song and album titles by Neil Young. Their task is to take photos of all of these titles, interpreting them however they like.
Examples
One team might interpret Cinnamon Girl by simply taking a photo of a girl holding some cinnamon. Another team though might make a female stick figure using cinnamon sticks.
For Mirror Ball, one team might take a photo of a literal mirror ball, while another takes a photo of a ball in the reflection of a mirror.
Teams
This music scavenger hunt will be most fun if the players are split into teams, but if there are only a few people participating, it can always be done individually.
Points
Award one point for each song and album title that a team takes a photo of.
Award bonus points for the best photos – this can be due to how funny they are, their creativity, for getting members of the public to take part, etc.
Another option is to award one bonus point for the best interpretation of each of the song titles to whichever teams have taken them.
List
You can come up with your own ideas of songs to use for this photo scavenger hunt, but below we've produced our own list of 20 Neil Young songs and albums. These are titles that have the potential for teams to take some funny and creative photos.
Beneath this is a link to download a free printable copy of the list, making it even easier for you to plan this game.
After The Gold Rush
Broken Arrow
Cinnamon Girl
Cowgirl In The Sand
Down By The River
Dreamin' Man
Harvest Moon
Heart Of Gold
Like A Hurricane
Mansion On The Hill
Mirror Ball
Old King
Old Man
Rust Never Sleeps
Sleeps With Angels
Southern Man
Sugar Mountain
The Needle And The Damage Done
War Of Man
World On A String
Printable Neil Young Scavenger Hunt List
If you liked this game, check out all our other scavenger hunt ideas.