If you're looking for a fun game to organize for some of your work colleagues, here's a great office scavenger hunt idea.
It's simple to plan and is a great way to encourage team building with your staff.
Here's how to play the alphabet hunt: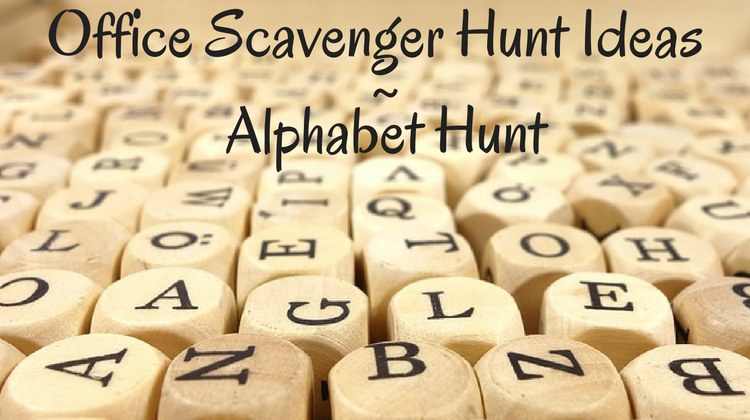 Resources
Preparation
None, unless you want to prepare worksheets for each team by writing out the letters A-Z down a sheet of paper.
Teams
For team building purposes, this scavenger hunt is best played in teams of 3 – 5 people. If you work in a smaller office, have people work in pairs.
It can be played individually, but this removes the team building element.
Instructions
Give each team a sheet of paper and a pen. Explain that their task is to hunt around the office and collect 26 different items, with the name of each item starting with a different letter of the alphabet.
The sheet is to help them keep track of what they've already collected and what they still need to find.
Set a time limit for them to be completed by, then send them off hunting.
Rules
Advise the players that they're not allowed duplicate items on the list but under different names. For example, they can't bring back their chair and have it be both C for Chair and S for Seat.
They can potentially use an item twice though if it can be split into two separate and distinct items. For example, a ballpoint pen could be used as P for Pen, plus it has an L for Lid.
It might be worth giving these examples to the players before they start so that they know what's acceptable and what isn't. If you do give examples though, also let them know that they can't use the examples you give as their actual items!
Example Ideas
Here's an alphabetical list of ideas for items that the players might find in the office:
Art
Binder
Clock
Disk
Eraser
File folder
Glue
Hole punch
Ink
Jacket
Key
Legal pad
Mouse
Newspaper
Organizer
Post it notes
Questionnaire
Ruler
Stapler
Tape
Umbrella
Video
Whiteboard marker
Xerox machine (although good luck to any team that manages to return with one!)
Yogurt
Ziploc bag
Winner
This will be the team that's first to return with 26 different items. If no one manages to do this within the time limit, the winning team will be the one that collected the most items in the allotted time.
Other Ideas
If you liked these ideas, make sure you check out both sets of our office scavenger hunt riddles.