If you want to plan a good team building activity for your workplace, here's an office scavenger hunt idea you can use.
It's one that uses post-it notes to encourage colleagues to work together to find a solution.
Here are some ideas of how it can be played: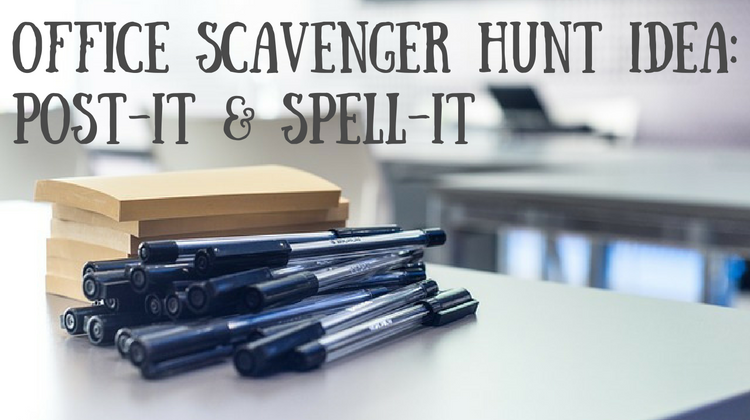 Resources
Preparation
First of all, you'll need to decide on a word or phrase. This could be something completely random or something more company-specific like your vision or mission statement.
Once you've decided on the word or phrase, write out each of its letters on separate post-it notes that are all the same color.
Once you've done one set of these, do another set using a different color of post-its. Continue creating sets using a different color for each set until you have as many colors as you will teams.
Next, stick the post-its all over the office – anywhere and everywhere. Make sure that each team has a couple of their post-its placed in harder to find locations, like on the underside of chairs and desks or on light fixtures (bearing in mind safety in the workplace!)
Finally, print off some sheets that indicate – hangman-style – how many words there are in the phrase and how many letters are in each word.
For example, the first part of Starbucks' mission statement is 'to inspire and nurture the human spirit'. This would therefore be set out as follows:
_ _    _ _ _ _ _ _ _    _ _ _    _ _ _ _ _ _ _    _ _ _    _ _ _ _ _    _ _ _ _ _ _
Rules
Split the office into teams – one team for each color of post-its that you've prepared. Explain that you've organized an office scavenger hunt and that they have to search the workplace for all of their team's post-its.
Advise them how many notes they should be looking for in total and also let each team know which color is theirs.
Tell them that once they've found all their letters, they need to collect a sheet of paper and a pen from you. Don't give them the sheet in advance, as they might be able to work out what the word or phrase is while they're still searching for the letters.
When they reach the point in the scavenger hunt where they collect the sheet from you, explain that they need to rearrange all the post-its to make a phrase.
Winner
The team that works out the phrase first.
If you liked this suggestion, you may also like our other office scavenger hunt ideas.