Do you want a fun game for your kids to play outdoors that doesn't require any preparation?
If so, here's a great scavenger hunt idea that'll keep them entertained while walking around your neighborhood.
Here's how to play the Alphabet Hunt: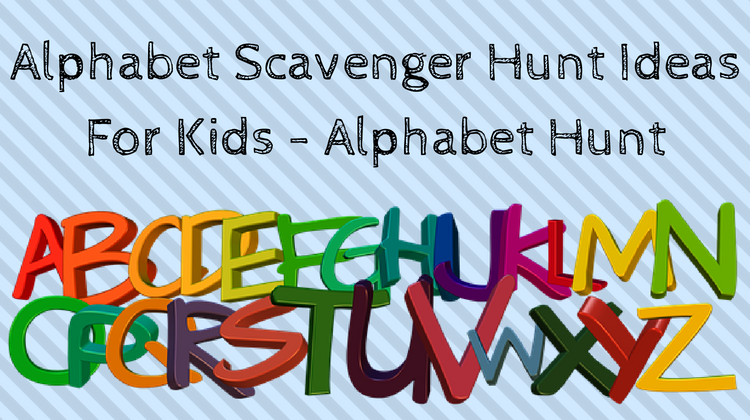 Resources
Paper
Pens
Cameras (optional)
Preparation
There's no preparation necessary, unless you'd like to write down every letter of the alphabet on the sheets of paper ahead of time so that the players don't have to do that themselves.
Location
This game works well as a neighborhood scavenger hunt, but could be played anywhere.
It can therefore be used as a way to explore the local area when on vacation, making sightseeing even more interesting for kids.
Teams
This scavenger hunt is flexible, so can be played with any number of kids. It works even if you only have one child, or can be used as a birthday party activity by splitting the kids into smaller teams.
Alternatively, if you only have a few children taking part, they could work in pairs or as just one team in order to play the game.
Instructions
Give each player / team a piece of paper and pen. If you haven't done the preparation listed above, have them write each letter of the alphabet down the sheet of paper.
Explain that their task is to walk around the neighborhood and hunt for items that begin with each letter of the alphabet.
Set a time limit that they have to be completed by and send them out.
Rules
Let players know that they can't have the same item on their list but with a different name for each one. For example, they can't have A be for automobile while also having C for car, T for transport and V for vehicle.
They can have related items though, so B for branch, L for leaves and R for roots is allowed.
It's also worth setting a rule that brand names aren't allowed – that way, the lists won't be filled with C for Chevrolet, F for Ford, H for Honda, T for Toyota, etc.
Photo Option
If your kids are a little older and / or you want to preempt accusations of cheating, make sure each player / team has a camera in order to take photos of each item they find. Cellphone cameras are therefore fine to use for this.
If the kids will be having an adult walking around with them due to their age, there's obviously no need to take photos of the items.
Examples
Here are some ideas for what their list could ultimately look like:
Airplane
Balloon
Car
Deck
Evergreen
Fly
Grass
Hay
Ice
Jacket
Kitten
Leaves
Moss
Nest
Oil
Pine cone
Quarter
Rock
Sun
Truck
Umbrella
Vinyl (siding)
Window
Xmas tree
Yard
Zigzag
Winner
If you're making this outdoor scavenger hunt competitive, the winning player / team will be the one that manages to complete their list of 26 items first.
If none of the teams manage to complete the list within the time limit, the winners will be whoever found the most items.