Here's a fun purse scavenger hunt idea that's perfect for using with a group of adults, especially at a party, baby shower or bachelorette party.
It also includes a free printable purse scavenger hunt list that contains 20 items – just use the link at the bottom to print your own copy.
If you enjoy using this idea, we also have a second printable list.
Here's how to organize it: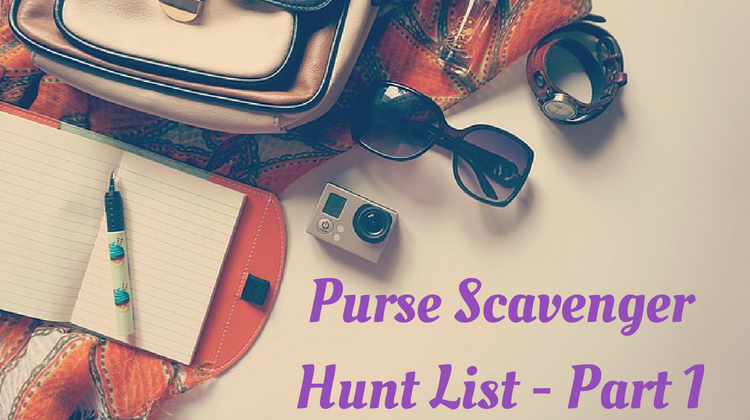 Resources
Preparation
None
Instructions
There are a few different ways you can organize this game:
1. Search Your Purse – Have players search through their purses to see how many items from the list they have. The winner is the person who can match the most items.
2. Beat The Clock – Have someone act as an MC who sits at one end of the room, with all the players sitting / standing at the other end. The MC calls out the first item on the list and the players race to be the first one to find that item in their purse and bring it to them.
Continue doing this with all the items – the winner is the player who managed to be first up with the most items. If there's a tie, decide it by which of the players had the most items on the list, even if they weren't the first one up.
3. Go And Hunt – Instead of searching through their purses, players have to do a regular scavenger hunt and go find all the items on the list. The winner is the first person to return with all 20 items.
List
Here's a list of 20 items for the players to match or find. Beneath this is a link to a free printable scavenger hunt list with these same items on it. There are two copies of the list on the page to reduce the amount of paper you need to print them off.
Cellphone
Lighter
Book
Pen
Mirror
Lipstick
Driver's license
Receipt
Hair brush
Debit card
Gum
Business card
Keys
5+ coins
Snack
Hand sanitizer
Hair tie
Coupon
Band-Aid
Photo