A couple of months ago, we published a free printable list that could be used as part of a purse scavenger hunt.
That list has proven to be quite popular, so here is a list with another 20 items that might be found in a purse.
This list could be used by itself or could be paired with the other list to have a total of 40 items as part of the game.
Here's a quick recap of how to play it: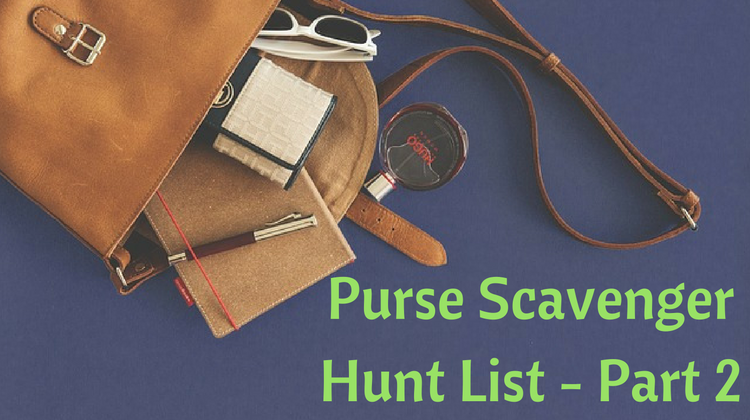 Resources
Preparation
None
Instructions
There are several options for how to play this scavenger hunt:
1. Search Your Purse – Have players search through their purses to see how many items from the list they have. The winner is the person who can match the most items.
2. Beat The Clock – Have someone act as an MC who sits at one end of the room, with all the players sitting / standing at the other end. The MC calls out the first item on the list and the players race to be the first one to find that item in their purse and bring it to them.
Continue doing this with all the items – the winner is the player who managed to be first up with the most items. If there's a tie, decide it by which of the players had the most items on the list, even if they weren't the first one up.
3. Go And Hunt – Instead of searching through their purses, players have to do a regular scavenger hunt and go find all the items on the list. The winner is the first person to return with all 20 items.
List
Here's the new list of 20 items to be found or matched, depending on which of the options you choose above.
Beneath this is a link to download a free printable sheet with these items on – there are two copies of the list on the page to reduce the amount of paper needed to print them.
Toothpick
Chap stick
Jewelry
Medicine
Something green
Tweezers
Mints
Pencil
Tissues
Sunscreen
Camera
Drinking straw
Headphones
Lanyard
USB drive
Bottle of water
Feminine hygiene product
Something magnetic
Nail clippers
Battery