If you and your friends are fans of Queen (as in the music, not the monarch!), here's a fun photo scavenger hunt idea for you to use.
It's based on different songs by Queen and will be fun even if some of the players don't know any of their songs.
There's also a free printable scavenger hunt list for you to use – keep reading for your copy.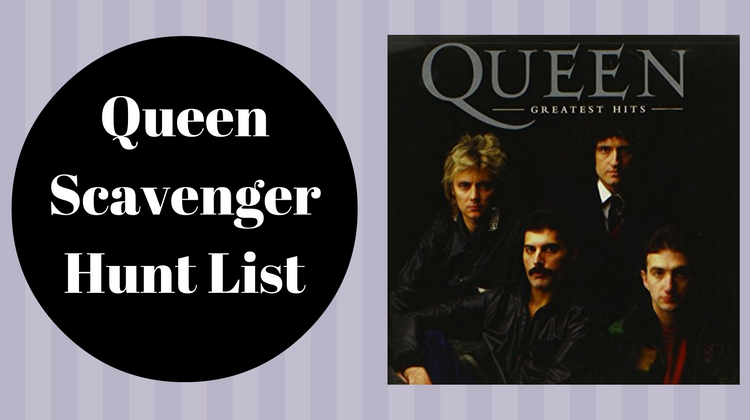 Resources
List of songs by Queen (see below)
Pens
Cameras (cell phone cameras are fine)
Preparation
None needed.
Teams
This game is best played in small teams of 2-5 people, although could be played individually if you only have a few players and you want it to be competitive.
Instructions
Give each team / player a copy of the song list and a pen. You'll also need to give them a camera to use if they don't have their own one, although if they have a cellphone they can use the camera on that.
Explain that their task is to take pictures of the different songs in any way they interpret the song title. The funnier or more creative the photos are, the better.
Examples
One of the songs on the list is I Want To Break Free. One team could choose to take a picture of one of their team members in handcuffs trying to get out, while a different team might take a photo of someone about to tear a Monopoly 'Get Out Of Jail Free' card in half.
Another of the Queen songs is We Will Rock You. For this one, a team might all take a photo of themselves playing air guitar, while another might have a few of their members pretending to throw rocks at one of their other members.
Points
There are a total of 40 possible points available to the teams:
Base points: Players earn one point for each song they take a photo of – 20 points available
Bonus points: Award one bonus point for each song title to the team that takes the best photo – 20 points available
It's up to you how you define 'best photo' for the bonus points. It could be based on which one was the most funny, how creative a picture was, for getting members of the public to take part in the photo, etc.
Winner
The winning team will be the one who scores the most points after both the base points and bonus points are added up.
List
Here's a list of 20 different songs by Queen. They've been chosen not only because they're some of their most famous songs, but because they have some of the best potential for interesting photos being taken.
Beneath this is a link to download a printable list containing these same songs – please feel free to print as many copies as you need when playing this game.
A Kind Of Magic
Another One Bites The Dust
Bicycle Race
Body Language
Crazy Little Thing Called Love
Don't Stop Me Now
Flash
I Want It All
I Want To Break Free
Killer Queen
Love Kills
Play The Game
Radio Ga Ga
Save Me
The Invisible Man
Too Much Love Will Kill You
Under Pressure
We Are The Champions
We Will Rock You
You're My Best Friend