When you go on a road trip, it's always good to have some games to keep your passengers entertained.
To help you out, here's a fun road trip scavenger hunt list with 30 items for players to spot, including a free printable copy.
This game is a great scavenger hunt for kids, but could just as easily be used on a road trip with adults to add a competitive element to the journey.
It's also a great way to help teens learn the different signs before getting their driver's permit.
Here's how to play it: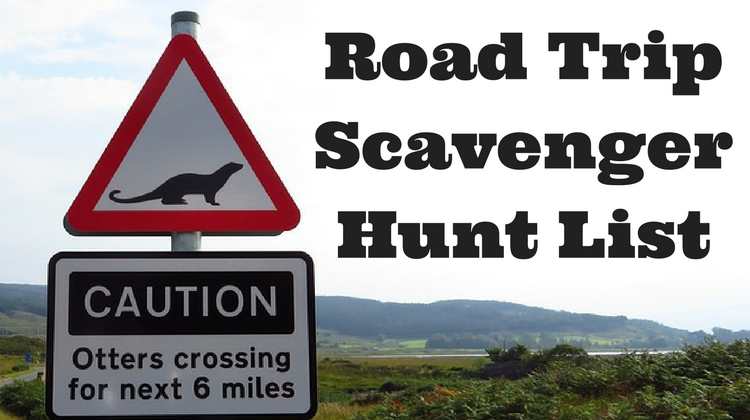 Resources
List (see below)
Pens
Print-off of road & traffic signs (optional)
Preparation
None
Instructions
Before you set off on the road trip, give the players a copy of the scavenger hunt list below. Their task is to try to find as many of the road and traffic signs as they can while you travel along.
If playing with young kids, consider giving them a print-off of the road signs on the list so that they know what they're looking for.
Points
There are a couple of ways this can then be scored:
Gotta find them all: The winner will be the first person to spot all 30 of the road signs (or who finds the most by the end of the journey).
Best of: Players have to call out when they see one of the signs – their initials are then noted on the list. The player who spots the most road signs by the time the road trip's over is the winner.
List
Here's a list of 30 different road and traffic signs to use for this activity. Beneath these is a link to a free printable copy of the scavenger hunt list – please feel free to print as many copies as you need when playing this game.
Stop
70mph
One way
Median
Left turn only
Steep hill
Railroad crossing ahead
Slippery when wet
Do not enter
Slower traffic keep right
Road works
School
Falling rocks
Cross roads
Merging traffic
Deer crossing
Traffic signal ahead
Rest area
Bridge height warning
Hairpin curve
Yield
Roadway narrows
Detour
Exit
25mph
Weigh station
Winding road
No U-turn
Stop ahead
Pedestrian crossing
Printable Road Trip Scavenger Hunt List
Prize
If you want to offer a prize to the winner, here are a few suggestions of what you could give: