Here's a fun game that's great for people of any age – a car scavenger hunt, complete with a free printable list.
Here are some ideas for how to play this game:
Resources
List of different cars (see below)
Pens
Cameras (optional)
Preparation
None
Teams
This scavenger hunt can be played individually, in pairs or in small teams – whatever works best for your group.
Instructions
Give each of the players / teams a copy of the car list and a pen. Explain that their task is to try to find as many of the different cars as they can.
Points
Some cars are more common than others, so each make will earn 1, 2 or 3 points based on how likely they are to see one – see the list below for a breakdown of how to score them.
Ideas
There are several different ways this can be played, so here are some suggestions:
Road Trip – If you're going on a summer, Thanksgiving or Christmas road trip, try to find all the cars while on your journey.
Grocery Store / Mall – To make a trip to the grocery store or mall more interesting for your kids, have them look around the parking lot to see how many makes of car they can spot.
Photo – Make sure each player / team has a camera (cell phone cameras are fine) and send them off to look for the cars. When they find each one, they should take a photo of the car make on the back of the car as evidence.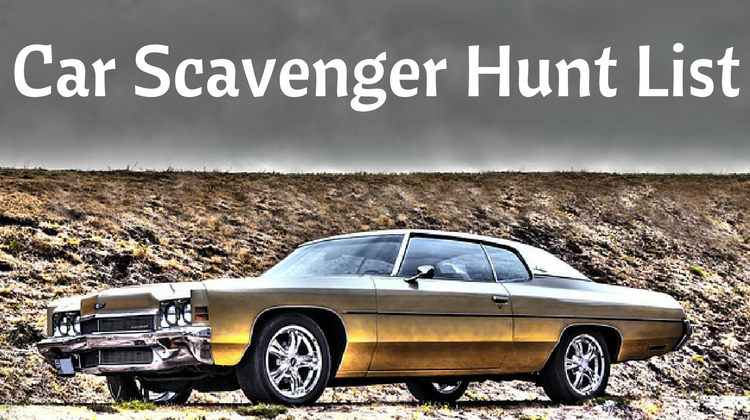 Car Scavenger Hunt List
Here's a list of different car makes to use for this game, along with how many points should be awarded for each one.
Beneath this is a printable scavenger hunt worksheet – please free to print as many copies as you need when playing this. There are two copies of each list per page to reduce the number of sheets of paper you have to use.
1 Point
BMW
Buick
Cadillac
Chevrolet
Chrysler
Dodge/RAM
Fiat
Ford
GMC
Honda
Hyundai
Jeep
Kia
Land Rover
Lexus
Lincoln
Mazda
Mercedes-Benz
Mini
Nissan
Oldsmobile
Pontiac
Saab
Saturn
Scion
Suzuki
Toyota
Volkswagen
2 Points
Acura
Audi
Hummer
Smart
Stretch Limo
3 Points
Bentley
Ferrari
Infiniti
Jaguar
Lamborghini
Porsche
Rolls-Royce
Printable Car Scavenger Hunt List
Other Ideas
If you liked this suggestion, check out our other scavenger hunt ideas for road trips and about cars.