If you want to do things a little differently on Easter morning this year, use these 10 Easter egg scavenger hunt clues for your kids to find their eggs. They're sure to love the rhyming clues as they're full of egg puns!
All you have to do is put the eggs in the different places indoors (and out) listed below, then give your kids the clues one at a time for them to go and hunt down their goodies.
Alternatively, you could hide the clues inside them, so the clue for the second egg is hidden inside the first one, etc.
We've also produced a free printable sheet containing all these clues – the link to download the sheet can be found beneath the 10 clues.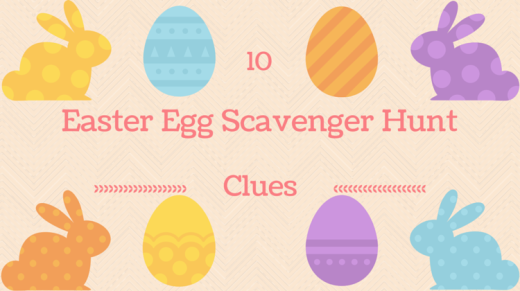 1. Where keys are kept
I know how smart you are
So you'll find this with eggs-treme ease
The first prize you need to find
Is where we keep the keys
2. Hidden under items in a kitchen drawer
Now that you've cracked that one
It's time to find one more
The second egg can be found
In a kitchen drawer
3. In a pan
Wow, you found that quickly
You've already got this scavenger hunt beaten
The next Easter egg can be found
In what cooks eggs before they're eaten
4. Behind the TV (The unscrambled sentence should read 'It's behind something you like to view')
So you've found three eggs already
Now here's your next clue
Unscramble the next sentence:
It's to you something like behind view
5. Underneath a bed
Are you feeling eggs-cessively tired?
Do you need to rest your head?
Then go and take a look upstairs
Your next clue is underneath a bed
6. Underneath a dining table chair
I should have made these clues harder
Made them more compl-eggs
The next one's also hidden underneath something
This time something that has four legs
7. In the yard
That last clue was a little over-easy
So it's time to give you the next one
You'll have to find this one quickly though
Before it melts out in the sun
8. In the freezer
You haven't chickened out
When it comes to solving these
Your next item can be found
Chilling out next to the peas
9. In the kitchen sink
I hope you're having an eggs-traordinary time
Despite me making you think
The ninth one that you need to find
Is sitting in a sink
10. In the bathroom
Omelet you finish this scavenger hunt now
With just one final clue
Your last egg's somewhere in the room
Where you brush what you use to chew
Printable Easter Egg Scavenger Hunt Clues

If you liked these clues, check out all our other Easter scavenger hunt ideas which include free riddles, lists and worksheets.