Here's a photo scavenger hunt idea that has the potential to be an extremely interesting and funny game.
It's based on different song titles by The Rolling Stones and is fun even if you're not a fan of The Stones.
Here's how to play it: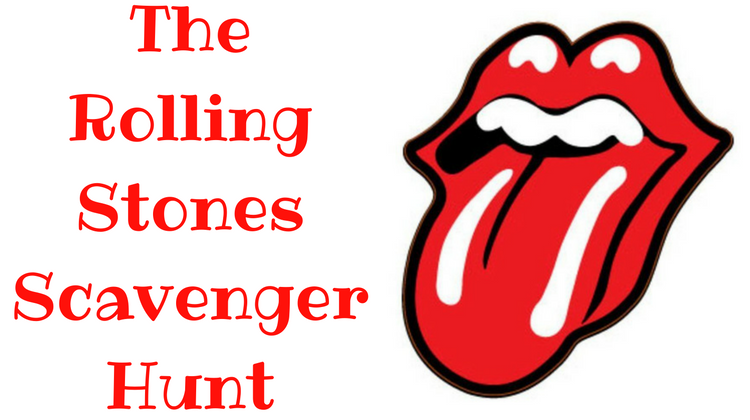 Resources
List of song titles (see below)
Pens
Cameras (cell phone cameras are fine)
Preparation
None
Teams
This music scavenger hunt is most fun when played in small teams, but can also be played with just a few people playing individually.
Instructions
Give each of the teams a copy of the list of Rolling Stones songs, as well as the other resources if they don't have them.
Explain that their task is to take photos of the different song titles in any way that they interpret the title. The more creative or funny the photos are the better.
Examples
One of the songs listed is Dandelion. One option would be to take an artistic picture of an actual dandelion. Another option would be to find a lion stuffed animal and dress him up in a dandy way – a dandy-lion.
Another of the song titles is Time Is On My Side. One team might take a photo of a watch attached to the side of someone's belt. A different team might come up with a similar idea, but attach some of the herb thyme to the belt instead.
Points
Award one point for each photo that a team takes – as there are 20 songs, there are 20 base points available.
Then award one bonus point per song to the team that took the best photo of that particular title, meaning there are an additional 20 bonus points up for grabs.
It's completely up to you how to define "the best" – it could be the most artistic, the most creative, the funniest, for getting members of the public involved, etc.
The winner will therefore be the player / team that scores the most points once both the base and bonus points have been calculated.
List
Here's the list of 20 different songs by The Rolling Stones. These have been picked not just due to the popularity of the songs but because they should lead to some great photos being taken.
Beneath this is a link to the free printable scavenger hunt list containing all these songs – please feel free to make as many copies of these as you need for your scavenger hunt.
Ain't Too Proud To Beg
As Tears Go By
Brown Sugar
Dandelion
Get Off Of My Cloud
Happy
(I Can't Get No) Satisfaction
Jumpin' Jack Flash
Mixed Emotions
Mother's Little Helper
Paint It, Black
Rock And A Hard Place
Ruby Tuesday
She's A Rainbow
Start Me Up
Sympathy For The Devil
Time Is On My Side
Tumbling Dice
Wild Horses
You Can't Always Get What You Want
Printable The Rolling Stones Scavenger Hunt List
Prize
If you're planning this because you and your friends are fans of The Rolling Stones, you might want to offer a prize to help them enjoy their music.
The prize you choose will depend on the budget but here are a few suggestions: