If you're looking for fun scavenger hunt ideas, here's a game you can play with people of any age.
This idea comes complete with a free printable list – keep reading to find out more.
Here's how to plan it: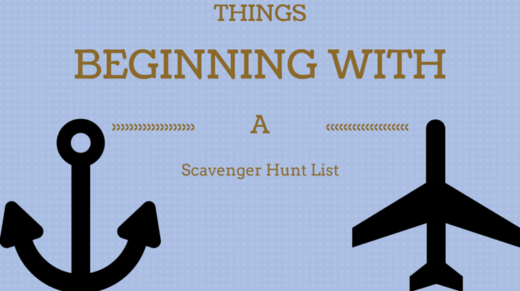 Resources
Scavenger hunt list (see below)

Pens
Camera (optional)
Preparation
None
Teams
If you have a large group of people, split them into smaller teams of 3-4. If you only have a few people taking part though, it can also be played individually.
Instructions
Advise all the players that their task is to find as many items beginning with the letter A as possible. There are a couple of different options for how this can be played:
Item scavenger hunt – players have to find and collect items
Photo scavenger hunt – players have to find and take photos of items
Set a time limit that they have to be finished by and arrange a place to meet.
Points
Award one point for each object they find that begins with A, then award bonus points for any objects they find that appear on your special items list.
Special Items
Have a separate list of 10 items that are kept secret from all the players. If they happen to collect / take pictures of any of the items, they earn two bonus points for each one.
If you're choosing to play this as a game where they have to physically collect the items, make sure your special items list includes objects that they could physically collect, rather than more random things like an aardvark!
Scavenger Hunt Lists
To make this activity easier for you to organize, here are two lists of special items – one for using if players are collecting items and one for taking photos.
Beneath this is a link to a free printable copy of both sets of special items, along with a blank grid for players / teams to note down all the objects they've found.
** Make sure you don't give the players the second page! **
Item Scavenger Hunt
Ace
Acorn
Advertisement
Airplane
Alphabet
Angel
Apple
Apron
Art
Asparagus
Photo Scavenger Hunt
Abacus
Abbreviation
Abominable Snowman
Actor
Anchor
Ankle
Arch
Armor
Attic
Axe
Printable Things Beginning With A Scavenger Hunt List
If you liked this idea, check out all of our other free scavenger hunt ideas.