Here's a continuation of our series of 'Things Beginning With…" scavenger hunt ideas.
These are great for playing with people of any age and don't need any preparation – even better!
Here's how to play this type of scavenger hunt: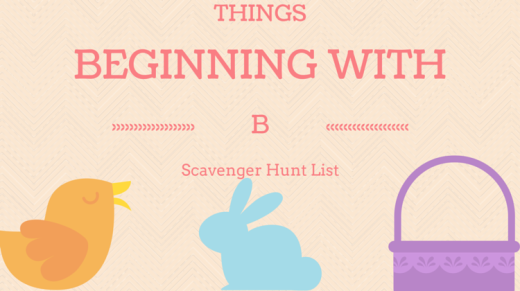 Resources
Pens

List (see below)
Cameras (optional)
Preparation
None
Teams
This is more fun if you have a few teams of 3-4 people, but can be played individually if you only have a couple of players (or if you're organizing it for your kids).
Instructions
Explain to the players that their task is to find as many items as possible that start with the letter B.
There are a couple of different ways that this can be played:
Photo scavenger hunt – players have to take photos of different things that start with the letter B
Item scavenger hunt – players have to collect different things that start with the letter B
If you want to make this game more challenging, it's best to play the second version listed above. If you want to encourage the creativity of your players, choose the photo version.
Set a time limit and a place to meet, then send them out to hunt for all the items.
Points
Players earn one point for every item they find that begins with B, then additional bonus points for anything on the special items list.
Special Items
Have a separate list of 10 items that begin with B, but don't let the players know what's on it. If they take photos of / collect items that are on the list, they earn two bonus points for each one.
If you're playing the version where players have to collect the items, make sure the special items list doesn't include things that will be too hard or impossible for them to collect.
For example, don't include words like 'bank' and 'brain' or 'blood'!
Scavenger Hunt Lists
To make this game easier for you to plan, we've produced two different lists of special items – one containing items for taking photos of and one for players to collect.
Beneath this is a link to a free printable copy of the lists, as well as a worksheet on which players can write down the items they've already found.
** The second page of the document contains the special items, so don't give that page to the players! **
Photo scavenger hunt
Baby
Bank
Beef
Bird
Blender
Boat
Brain
Brick
Bridge
Bunny
Item scavenger hunt
Backpack
Ball
Bandage
Basket
Battery
Biscuit
Blanket
Book
Bottle
Bucket