Here's another installment in our series giving ideas for how to plan a 'Things Beginning With…' scavenger hunt, this time using the letter D.
These scavenger hunts are great for using no matter how old the players are and can be used with groups of any size – from 1 to 100.
Here's how to play it: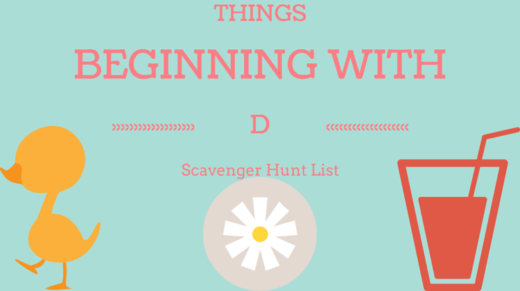 Resources
List (see below)
Pens
Cameras (only needed if you choose the photo option below)
Preparation
None
Teams
This game is more fun if played in small teams. However, if you only have a few participants, you could have them paired up or playing individually.
Instructions
Explain to the players that their task is to find as many items as they can that begin with the letter D.
You have a couple of options for how these items should be found / collected:
Photo – Players have to go around and use the camera to take pictures of objects that start with the letter D
Item – Players have to go around and collect objects that start with the letter D
The photo scavenger hunt option is the easier of the two, so this can be a better choice if organizing this for younger kids. If you want to make it more of a challenge though, have players collect D items instead.
Arrange a time and place to meet at the end and send them off hunting.
Points
Players / teams earn one point for each item that they take a photo of / collect, as well as bonus points if the objects appear on the Special Items list.
Special Items List
Make a list of 10 items that start with the letter D (or use our list below), but don't tell the teams what these objects are.
If they happen to take a photo of / collect one or more of these items during the scavenger hunt, they should earn two points for each one, meaning there are 20 bonus points available.
If you're playing the version where teams need to actually collect the objects, don't include items beginning with D that they wouldn't be able to bring back with them.
Things like 'dishwasher' and 'dresser' therefore shouldn't be listed on the item version, although they're fine to include for the photo scavenger hunt list.
Lists
We like to make things easy for you when it comes to organizing scavenger hunts, so we've put together two different Special Items lists – one for the item option and one for the photo option.
Below these is a link to download a free printable copy of the lists that also includes a worksheet for players so that they can keep track of which items they've already found.
** Very important – the second page of the document features the Special Items list, so make sure you only give teams the first page! **
Photo version
Dad
Dimple
Dishwasher
Dog
Door
Dot
Dreadlocks
Drool
Drum
Duck
Item version
Daisy
Deoderant
Dice
Dime
Dish
Doll
Doritos
Drink
Duster
Dye