Here's the 5th part of our 'Things Beginning With' series of scavenger hunt ideas – this time, the letter is E.
These scavenger hunts are perfect for using with anyone, so it doesn't matter if they're kids, teens or adults – they'll all have fun!
Here's a recap of how to play it, two lists of E words to use, plus a free printable worksheet.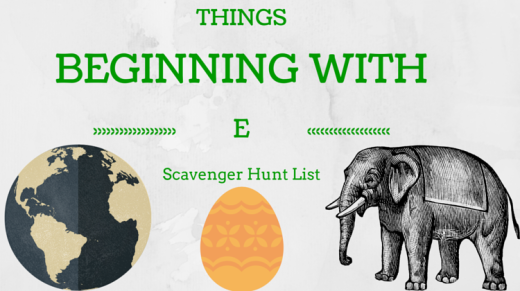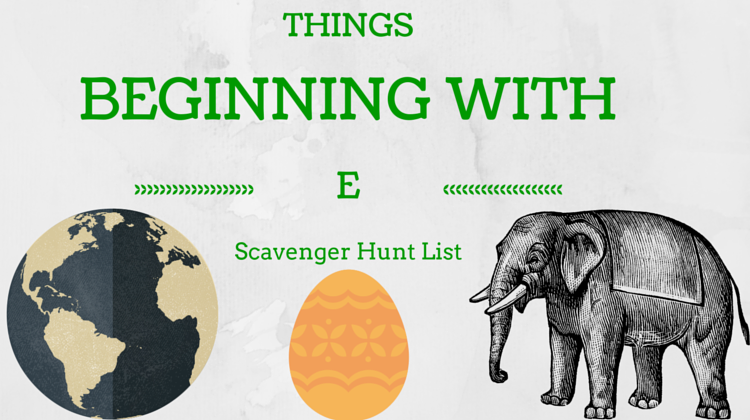 Resources
List (see below)
Pens
Cameras (if playing as a photo scavenger hunt)
Preparation
None needed.
Teams
This will be more fun – and be a good team building exercise – if played in pairs or small teams.
If you only have a handful of people participating though, or want to maximize how competitive they are, it could also be played individually.
Instructions
Advise the players that their task is to find as many items as they can that start with the letter E.
There are a couple of different ways you could have players 'collect' the items:
Item – Have them go round and actually collect items that start with E
Photo – Have them go round taking photos of items that start with E
The first option is harder as it restricts the number of items the teams / players will be able to collect. This might therefore be more appropriate for teens and adults.
The photo scavenger hunt option could therefore be better for younger kids, although can also be used with people of any age if you don't want to make it too hard.
Arrange a meeting place and time, then send the teams out hunting.
Points
Award one point for each item that a team finds that begins with E, plus bonus points for any items that also appear on your Special Items list.
Special Items List
Make a list of 10 items that start with E (or use our printable list below), but don't tell the teams what these items are.
If they collect / take a photo of one of the items, they should earn two points for each one, meaning there are 20 bonus points up for grabs.
If you choose the option where players have to physically collect the objects, make sure you don't include items that they wouldn't actually be able to return with.
This would be things such as an elevator or an escalator, although these would be perfectly fine to use with the photo option.
Scavenger Hunt Lists
As mentioned above, we've produced two sets of 10 items for your Special Items List – one for the item version and one for the photo option.
Beneath these lists is a link for a free printable worksheet. The first page has a table where players can write in the items they've found to keep track of them, while the second page has these two Special Items Lists.
** Very Important – make sure you don't give players the second page of the worksheet! **
Photo List
Eagle
Ear
East
Edge
Eight
Elbow
Elephant
Elevator
Etching
Eye
Item List
Eardrops
Earplugs
Earth
Egg
Elastic
Email
Embroidery
Envelop
Eraser
Essay