If you want to plan a fun activity that will involve random members of the public, here's a Christmas carol scavenger hunt idea you can use.
This video scavenger hunt is perfect for using with a church youth group, although could be used with other groups of kids or adults of any age.
There's also a free printable sheet below with Christmas carol lyrics that you can use – keep reading to get your copy.
Here's how to organize it: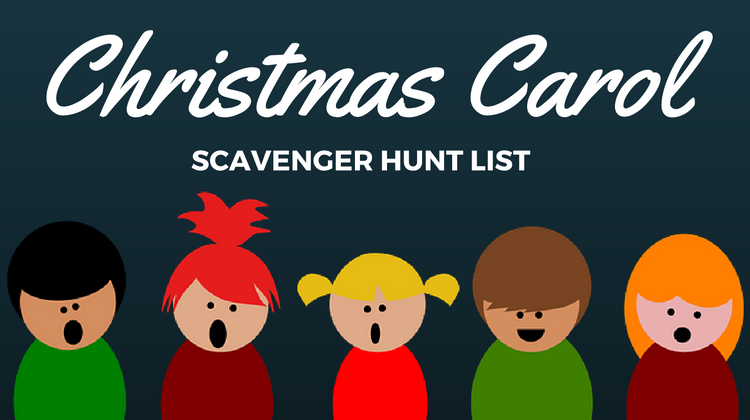 Resources
Words to Christmas carols (see below)
Cameras or phones capable of taking video footage
Pens
Preparation
None needed.
Teams
This will be most fun when played in small teams of 3-5 people, although can also be played individually or in pairs.
Location
The best place to play this scavenger hunt would be at a mall, due to all the people who will be there.
Alternatively, if you're planning this for a church youth group, it could be done after a church service – the young people can then try to recruit adults from the main congregation to be part of the videos.
Instructions
Give the players all the resources listed above, or have them use their own phones for recording.
Explain that the sheet has lyrics from 15 different Christmas carols; their task is to find (at least*) 15 different members of the public who are willing to sing a section from one of the carols.
They then need to film the people singing, with each video lasting no longer than 15 seconds.
Set a time limit that they have to be completed by, then send them off to hunt for carolers!
* Teams can have more than 15 people be part of the videos, in case couples, families, friends, etc want to sing together. This rule is simply there to make the game harder, so that teams don't have just one person singing all 15 carols.
Upload
Once the scavenger hunt has finished, upload the videos to Youtube so that everyone can watch each other's clips.
Alternatively, use Instagram Video to record as those videos are restricted to being no longer than 15 seconds.
Points
You can award points using the ideas listed below, or you can come up with your own scoring system:
1 point for each carol that's sung (so a maximum of 15 points)
2 points for the first team to complete all 15 carols
Bonus points based on quality of singing voices, if a video was funny, etc
Deduct half a point for each video that lasts longer than 15 seconds
Christmas Carol Scavenger Hunt List
Here's a list of 15 sets of lyrics from different Christmas carols for you to use.
Beneath this is a link for a printable sheet containing these same lyrics – please feel free to print off as many copies as you need when playing this.
1. Angels We Have Heard On High
Gloria, in excelsis Deo!
2. Away In A Manger
Away in a manger, no crib for a bed,
The little Lord Jesus lay down His sweet head
3. Do You Hear What I Hear?
Said the king to the people everywhere
Listen to what I say
Pray for peace people everywhere
Listen to what I say
4. The First Noel
Noel Noel Noel Noel
Born is the King of Israel
5. God Rest Ye Merry Gentlemen
God rest ye merry, gentlemen
Let nothing you dismay
Remember, Christ, our Savior
Was born on Christmas Day
6. Hark! The Herald Angels Sing
Born to raise the sons of earth
Born to give them second birth
Hark! The herald angels sing
"Glory to the newborn King!"
7. It Came Upon A Midnight Clear
It came upon the midnight clear,
That glorious song of old,
From angels bending near the earth,
To touch their harps of gold
8. Joy To The World
And heaven and nature sing
And heaven and nature sing
And heaven, and heaven and nature sing
9. Little Drummer Boy
Come, they told me, pa rum pa pum pum
A newborn King to see, pa rum pa pum pum
10. O Come O Come Emmanuel
Rejoice! Rejoice! Emmanuel
Shall come to thee, O Israel
11. O Holy Night
O hear the angel voices
O night divine!
O night when Christ was born
12. O Little Town Of Bethlehem
O little town of Bethlehem
How still we see thee lie
Above thy deep and dreamless sleep
The silent stars go by
13. Silent Night
Silent night, Holy night
All is calm, all is bright
14. We Three Kings
O star of wonder, star of night
Star with royal beauty bright
Westward leading, still proceeding
Guide us to thy perfect Light
15. What Child Is This?
Raise, raise a song on high
The virgin sings her lullaby
Joy, joy for Christ is born
The babe, the Son of Mary
Printable Christmas Carol Scavenger Hunt List
Other Ideas
If you liked this festive suggestion, be sure to take a look at all of our other Christmas scavenger hunt ideas – we have loads more free printable lists, riddles and clues for you to use.